Apple unveils powerful iPhone 5s and entry-level 5c
The iPhone 5s gets beefed up with faster guts and fingerprint scanning, while the 5c is fantastic with plastic and rainbow colors.
You can simply touch the Home button to unlock your iPhone. You can use the Touch ID to authenticate anywhere you'd otherwise need to provide your Apple ID password, too.
Touch ID also supports multiple fingerprints. So, you can unlock your iPhone with multiple fingers, or theoretically let a family member add their fingerprint to unlock your device, too.
The iPhone 5s camera
Schiller said that the camera on the iPhone 5s is dramatically improved over its predecessor. He cited what he called "huge advancements": There's a new five-element, Apple-designed lens, with a larger 2.2 aperture, and a 15 percent larger active sensor area.
The pixels on the sensor are 1.5 microns, Schiller said, and he said that bigger pixels lead to better pictures. The camera also includes a new True Tone Flash.
The iPhone 5s camera also adds automatic image stabilization. It combines multiple photos taken simultaneously in real-time to stabilize and sharpen images. And the camera includes burst mode, too.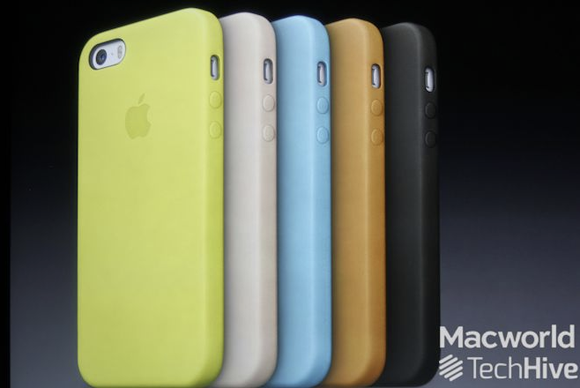 The leather cases for the iPhone 5s cases.
There's a new video camera option, too: a Slo-Mo camera, which shoots 120 frames per second in high definition.
Other features
There's another completely new part in the iPhone 5s called M7: a motion co-processor. It continually measures motion data from the accelerometer, gyroscope, and compass, without waking the A7, which Schiller said would enable new fitness accessories and apps.
In conjunction with a new CoreMotion API, Schiller said that developers could create apps to measure and track fitness in ways that weren't possible before.
The iPhone 5s's battery life is equal to or greater than the iPhone 5's, Schiller said, with 10 hours of 3G talk time or LTE browsing.
Pricing and availability for the iPhone 5s
The iPhone 5s is available in 16GB for $199, 32GB for $299, or 64GB for $399. Apple is also offering six leather cases for the iPhone 5s at $39 each.
The iPhone 5s will be available in the U.S., Australia, Canada, China, France, Germany, Hong Kong, Japan, Puerto Rico, Singapore and the U.K.
Orders for the iPhone 5s start on September 20, and they will be available from the Apple Online Store, Apple's retail stores, and through AT&T, Sprint, T-Mobile, Verizon Wireless, as well as select Apple authorized resellers.
The unlocked prices for the 5s are $649 for the 16GB model, $749 for the 32GB model, and $849 for the 64GB model.
Though the iPhone 5 will be retired, Apple will continue to offer the iPhone 4S in a free 8GB model.
The iPhone 5c
"The iPhone 5c is made with all the incredible technology customers have loved with the iPhone 5," Apple senior vice president Phil Schiller said.