Apple puts the big hurt on Samsung
2015 will be a challenging year for the Korean phone maker, but there are steps Samsung can take to reverse its declining market share.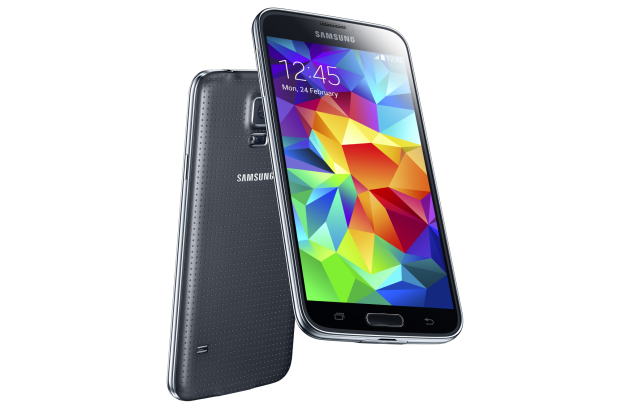 Samsung's Galaxy S5 has had disappointing sales, while Apple's iPhone 6 and 6 Plus smartphones have surged. Credit: Samsung
Things are not looking so good for Samsung in the smartphone market, especially as it faces its Apple nemesis.
Long the world's largest smartphone maker, Samsung is likely to see Apple iPhones rise to the top spot in 2015, pushing Samsung and its Galaxy and other smartphone models into second place.
What's more, Apple is releasing in April its first Apple Watch, which could knock the wind out of smartwatch competitors including Samsung, which already has several models on the market.
"No question, 2015 is going to be a challenging year for Samsung," said IDC analyst Ryan Reith.
There are many reasons for Samsung's decline and not all of them have to do with Apple's product superiority. What Samsung must do to reverse its declining share in smartphones and remain a competitor against Apple in smartwatches may sound like a complex marketing dilemma, but a lot comes down to Samsung's basic need to build a better overall brand reputation.
"Building brand loyalty and customer lock-in to a Samsung ecosystem is the major challenge Samsung faces in battling Apple, " said Jack Gold, an analyst at J. Gold Associates.
Samsung's smartphone decline
Fourth-quarter smartphone shipments show Samsung's embarrassing decline. Apple and Samsung virtually tied in global shipments, each reaching about a 20% share of the total market, according to research firms Strategy Analytics and IDC.
A year earlier, in the fourth quarter of 2013, Samsung had about a 30% smartphone market share, compared to Apple's 17%.
IDC on Thursday said that the smartphone gap between Samsung and Apple had narrowed to 600,000 units at the end of 2014 with Samsung still in the lead. But IDC warned: "Continued success from Apple, coupled with ongoing challenges facing Samsung, could enable Apple to overtake Samsung during the 2015 calendar year."
In the fourth quarter, Samsung shipped 75.1 million smartphones, while Apple shipped 74.5 million, IDC said, well ahead of the others in the top five: Lenovo (24.7 million), Huawei (23.5 million) and Xiaomi (16.6 million).
Even in South Korea, home of Samsung, Apple surged ahead in smartphones in the fourth quarter, grabbing 20% of that market, up from 11% a year earlier, Strategy Analytics said. For November, Samsung's domestic share fell to 46%, down from 61% in September (before the new iPhones had taken their toll), according to Counterpoint Research.
Clearly, Apple did well with its new iPhone 6 and iPhone 6 Plus in the fourth quarter, but Samsung also crashed, comparatively, with its Galaxy S5, introduced earlier in the year.