Apple expected to finally introduce wireless charging with the iPhone 7
IHS sees the company eventually moving to loosely-coupled charging.

Smartphones wirelessly charging via the Powermat specification in a Starbucks coffee shop. Credit:Powermat
As wireless charging adoption continues to show double-digit annual growth rates, industry pundits have openly wondered when Apple's iPhone would finally take the plunge.
This month, market research firm IHS predicted that Apple would introduce some form of wireless charging on the iPhone 7 expected to arrive in September; that move seems more likely given that Apple introduced an inductive, proprietary charging solution in 2015 on the Apple Watch.
Adding fuel to the wireless charging fire, Bloomberg today reported that Apple is working with partners in the U.S. and Asia to develop new wireless charging technology that could be deployed on its mobile devices in 2017.
"We still expect [wireless charging with the iPhone 7], but this latest rumor suggests a longer term look at much greater spatial freedom -- claiming to take away the charging pad altogether," David Green, a research manager at IHS Technology, said in a report today.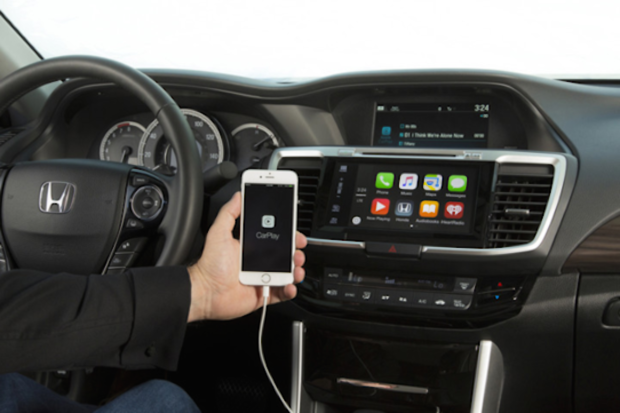 Honda
Apple's CarPlay allows the iPhone to mirror itself to a car's infotainment system.
Two years ago, the Windows Phone 8-based Lumia 920 smartphone introduced wireless charging. Then Samsung launched dual-mode wireless charging on its Galaxy S6 and S6 Edge phones. Now, the focus is on Apple to see whether it will also add wireless charging to the iPhone, Green said.
Wireless charging is proving to be very popular with those who have used it, and the market tripled in size last year compared to 2014, with more than 160 million wireless charging receivers shipped across all markets.
The three major wireless charging industry groups have adopted a form of resonant wireless charging, which allows a more "loosely coupled" approach where handsets can be several centimeters away from a charger or placed at any angle on a charging pad.
For example, AirFuel Alliance's Rezence-specification, which allows charging from across several centimeters, includes the ability to use a charging bowl or charging through a desktop.
There's also uncoupled charging technology, where powering up devices through Wi-Fi, for example, sends low levels of power (typically less than 1 watt) across a room.
Ossia, Energous and uBeam all demonstrated uncoupled charging technology at CES earlier this month.
Loosely coupled charging -- and the Rezence-specification, in particular -- are expected to launch into commercial availability this year, possibly as early as Mobile World Congress (MWC) in February, Green said. Uncoupled technology, however, is likely to take longer to reach the mass market.