Android on the big screen: We chew up and spit out three Jelly Bean all-in-one PCs
Android is a mobile operating system. It powers hundreds of millions of smartphones, tablets, and other computing devices with small screens. So what's it doing on these three very different all-in-one desktop computers?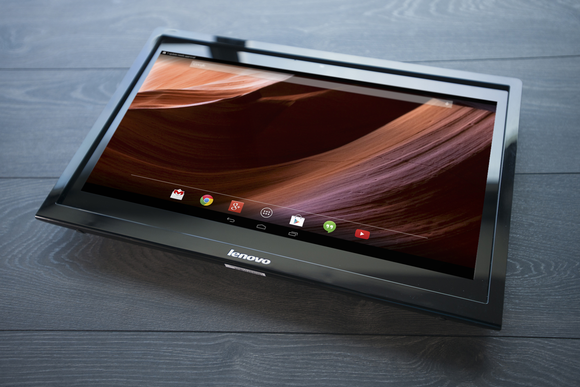 The Lenovo N380 can switch from a 10-pound all-in-one to a 10-pound tablet.
Viewing photos and videos on this machine was a distinctly inferior experience. Its infrared two-point touch technology is a step ahead of HP's camera-based two-point touch, but far behind Acer's 10-point capacitive touch.
As with its competitors, Lenovo chose Nvidia's Tegra 4 T40S processor to power the N308, aided by 2GB of DDR3/1600 memory and 8GB of flash storage. In a surprise move, Lenovo also packs a 320GB mechanical hard drive behind the glass. I know what you're thinking: "A mechanical hard drive? In a tablet?" They've worked in notebooks for years, so they should be fine in tablets. Still, I'd love to see Lenovo's warranty claims in a year's time.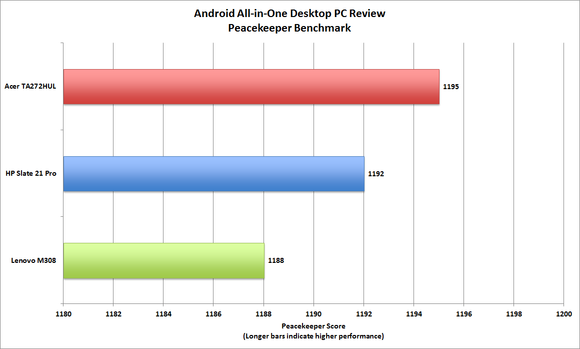 Lenovo's N308 trailed the pack in our benchmarks, but not by much.
Lenovo provides a basic wireless mouse and keyboard with the N308, but unlike the HP and Acer machines, it can't be used as a touchscreen display for a notebook or desktop PC. The all-in-one has two USB 2.0 ports, a 6-in-1 card reader, mic and headphone jacks, and a 10/100 LAN port.
The appeal of using the N308 as a big tablet is tempered by its 10-plus-pound bulk and the fact that its battery petered out after just 2 hours and 37 minutes in our battery run-down test. That's long enough to watch one movie and do some IMDb searches afterward before needing to plug it back in. This isn't the perfect all-in-one, but its low price tag and its ability to tap into the Android universe of free, high-quality, cloud-based apps gives it a very good price-to-performance ratio.
Previous Page 1 2 3 4 5