Android on the big screen: We chew up and spit out three Jelly Bean all-in-one PCs
Android is a mobile operating system. It powers hundreds of millions of smartphones, tablets, and other computing devices with small screens. So what's it doing on these three very different all-in-one desktop computers?
Acer's machine is much more attractive-if you like modern design, that is. Where the HP encases its all-in-one with bland, matte-charcoal plastic, Acer's design features a glass panel that comes all the way down to the top of your desk. A single foot in the back allows the display to recline up to 80 degrees, so that you can use its touchscreen from a standing position as easily as when you're sitting in front of it. It's not surprising that the computer doesn't pivot into portrait mode, but it does have VESA mounts on the back should you decide to mount it on an articulated arm to get it off your desktop.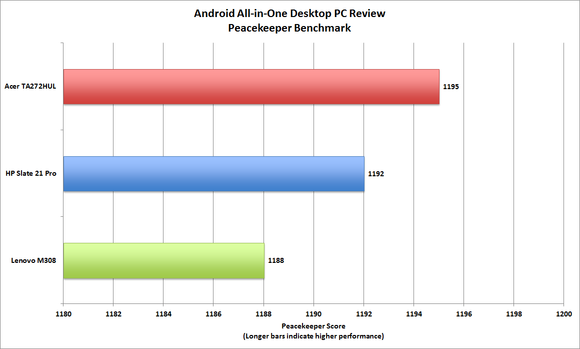 Acer won the benchmark competition, but the margin of victory was slim.
Smart displays like these appeal to me because they don't turn into useless boat anchors the instant I unplug my laptop. Acer scores a home run on that score by providing DisplayPort and two HDMI input on its TA272HUL. You don't need to connect a computer at all if you just need to surf the web, check email, or play a simple games. And you can use cloud-based apps such as Google Docs when you need to be more productive. If I were to buy this unit, I'd use DisplayPort for my laptop, one HDMI input for my satellite-TV set-top box, and the second HDMI for a video-game console.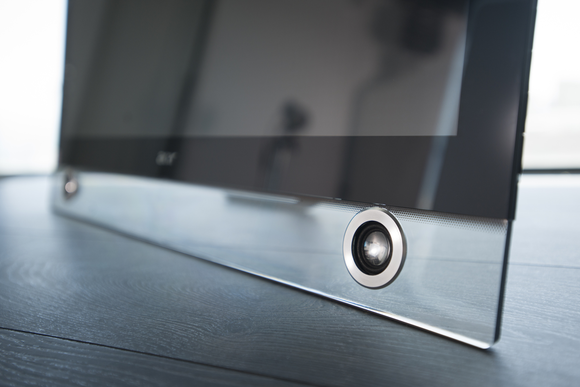 Acer's Android all-in-one had the best speakers of the bunch.
Acer's Android all-in-one is focused strictly on the consumer market-the TA272HUL doesn't aspire to be a smart thin client-so this machine holds much less appeal for small businesses than does HP's machine. Android apps don't look bad scaled up 2560x1440, but neither do they benefit from that resolution. Acer's high-resolution display, on the other hand, is a nice complement to high-end laptops that are capable of resolution higher than 1920x1080.
Lenovo
Lenovo's N308 All-in-One is the most offbeat member of this oddball trio. Its $350 price tag is even more attractive than HP's Slate 21 Pro ($379), but unlike that machine and Acer's pricey TA272HUL ($1099), the N308 can also function as a battery-powered tablet. Many of its remaining specs, however, are not as compelling as those of either of its competitors.
The display is the biggest letdown. Where the HP has a 21-inch screen with resolution of 1920x1080 pixels and the Acer has a 27-inch monitor with resolution of 2560x1440 pixels, Lenovo delivers a 19.5-inch screen with resolution of just 1600x900 pixels. And where its competitors step up by using IPS panels, Lenovo cheaps out with an inferior TN panel.
Previous Page 1 2 3 4 5 Next Page