Android on the big screen: We chew up and spit out three Jelly Bean all-in-one PCs
Android is a mobile operating system. It powers hundreds of millions of smartphones, tablets, and other computing devices with small screens. So what's it doing on these three very different all-in-one desktop computers?
The Slate 21 Pro's 21.5-inch display is an IPS model with resolution of 1920x1080 pixels. It's a touchscreen, but it supports only two touch points, and it's based on optical, versus capacitive, touch technology (it determines where your fingertips are on the screen using three cameras embedded in its bezel). So you open windows with a double tap, drag windows around the screen, and close them with a single tap. You can also pinch-to-zoom windows, but nothing more complicated than that.
The spring-loaded stand on the back allows the computer to recline up to 70 degrees, which makes it easy to use whether you're standing over it or sitting down in front of it. Remove two screws and you can remove the stand to reveal a VESA mount that can be used to attach the computer to an articulated arm. HP bundles a cheap wired mouse and keyboard with the box, and these (or any USB mouse and keyboard you might upgrade to) can control a Windows PC when you connect the two using the upstream USB cable.
HP markets the Slate 21 Pro as a business machine, and it has clear value in that space-provided your business isn't heavily dependent upon custom Windows applications, or is too small to run a virtualized Windows environment for that purpose. But it's also a solid value for consumers looking for a capable, multi-purpose family PC. This is a great machine for the kitchen or family room, where it could be paired with a laptop, Xbox, or a set-top box when it's not being used in stand-alone mode. Good job, HP.
Acer
If you have your heart set on an Android all-in-one, and price is no object, Acer's TA272HUL is the one to buy. Like HP's Slate 21 Pro, this dual-function device can operate as a stand-alone Android computer or as a touchscreen display for a Windows machine. Most of the Acer's specs are superior to HP's, but those features pump the Acer's price tag to $1,099. That, and the fact that the HP delivers business-oriented features that Acer can't match, crimp the TA272HUL's price-to-performance ratio.
I don't mind paying more to get more, but there is a point of diminishing returns. That happens pretty early, considering that you can almost buy three of HP's machines for the price of one Acer. Acer's IPS display delivers native resolution of 2560x1440 pixels, and it supports 10 touch points where the HP is limited to two.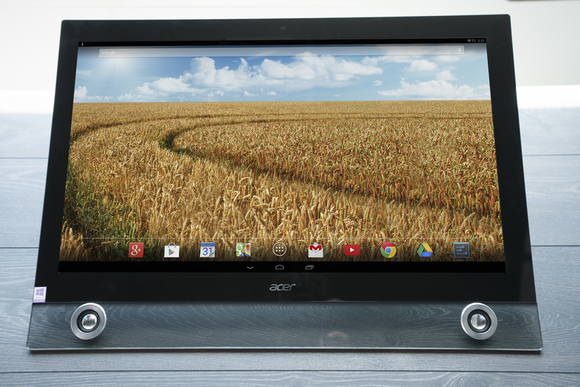 Acer's TA272HUL is a much prettier all-in-one than HP's dull-looking Slate 21 Pro (for what that's worth).
Both machines use the same CPU-Nvidia's Tegra 4 T40S-and both come with 2GB of memory and 16GB of storage. Beyond that, Acer's machine is much better. The TA272TUL offers a DisplayPort input in addition to two HDMI inputs, it's outfitted with much-faster USB 3.0 ports (three of them), and it has a dual-band 802.11b/g/n adapter, whereas the HP is limited to operating on the crowded 2.4GHz frequency band (both machines also have 10/100 wired ethernet adapters). Acer's mouse and keyboard are nothing fancy, but they are wireless.
Previous Page 1 2 3 4 5 Next Page