Android on the big screen: We chew up and spit out three Jelly Bean all-in-one PCs
Android is a mobile operating system. It powers hundreds of millions of smartphones, tablets, and other computing devices with small screens. So what's it doing on these three very different all-in-one desktop computers?
Like Acer's larger TA272HUL, you can use the Slate 21 Pro as desktop computer with local or cloud apps, or you can plug in a conventional Windows computer (desktop or laptop) and use it as a touchscreen display (it has both an HDMI input and an upstream USB port). When you take the laptop away, you still have a completely functional PC-just not one that runs Windows.
Businesses, especially at the enterprise level, concerned about relying on the public cloud can deploy the machine as a smart thin client. The Slate 21 Pro comes with Citrix Receiver preinstalled, so a corporate IT department can create virtual workspaces that include Windows desktops and apps for remote employees to use.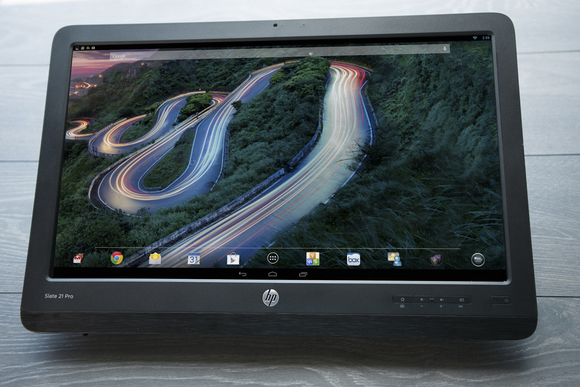 While it was designed for business users, HP's Slate 21 Pro is vastly superior to its consumer-oriented Slate 21.
I checked out a demo that included virtualized installations of Microsoft Office, Excel, and Powerpoint and noticed very little difference between those apps running on a local Windows PC and the virtualized versions running on a remote Windows Server, even with the Slate 21 Pro connected to the Internet via its 802.11n Wi-Fi adapter.
The Slate 21 Pro is based on Nvidia's Tegra 4 T40S processor, supported by 2GB of DDR3/800 memory and 16GB of flash storage. That's obviously not a lot of capacity, but most apps will run in the cloud. If you do need more, HP includes 50GB of free cloud storage via Box, and you can get another 15GB of free storage with a Google Drive account. If you want additional local storage, you can plug in an SD memory card or connect a portable hard drive to one of the computer's three USB ports. Only one of these is easily accessible, however, being located on the lefthand side of the machine. The other two are near the bottom of the back panel, and they face up. All three are only USB 2.0 (USB 3.0 is considerably faster).
If you prefer local apps, HP bundles a copy of Kingsoft Office for Android that includes a word processor, spreadsheet, and presentation builder. These three programs can exchange files with Microsoft's Word, Excel, and Powerpoint, respectively. The whole universe of other Android apps is also available to you-including portrait-oriented apps (some Android devices limit you to apps designed to run in landscape mode; the Slate 21 Pro scales them properly to fit its display).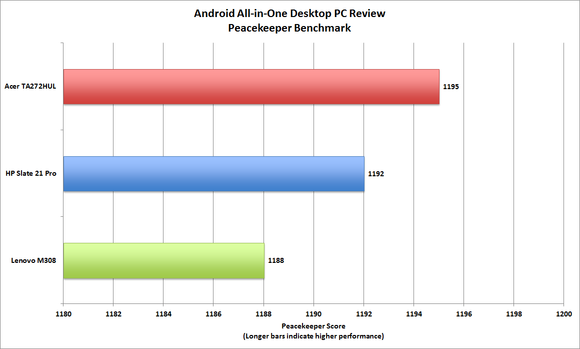 Acer's TA272HUL performed slightly better than HP's Slate 21 Pro in our benchmark tests, but that doesn't justify the Acer's oversized price tag.
Previous Page 1 2 3 4 5 Next Page