Android Auto anywhere: Google's app will work in any car, plus it adds Waze support
The standalone phone app means you won't need to buy an entire car or new stereo system to get Android Auto.
Android Auto Waze support (finally)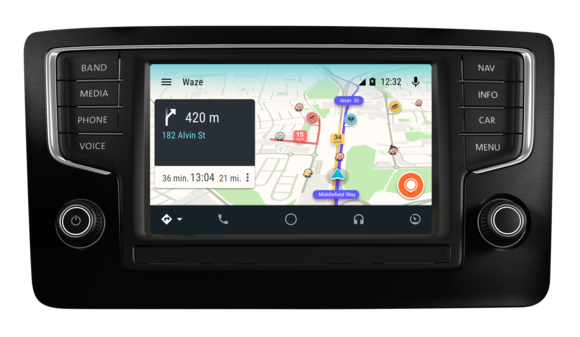 Thanks to new Waze support, you'll be able to see upcoming obstructions directly from Android Auto.
Finally, Google will officially integrate the Waze navigation app into Android Auto. Finally, indeed: We've been clamoring for this feature since we reviewed the platform last year. Nothing against Google Maps for most purposes, but Waze still does a better job of alerting drivers to upcoming traffic situations or other delays. One of the challenges for both Android Auto and Apple CarPlay is to build in the features and apps users want without sacricifing simplicity and safety. Adding the popular Waze app is just one small step, but it will add to Android Auto's appeal.
Android Auto's branching out. After a decent start, it's currently supported by about 100 new cars and a few third-party infotainment systems. That basically puts it in parity with CarPlay. Later this year, however, when it becomes available for anyone to use in any vehicle—and especially if more automakers start using Android Auto as the native infotainment application—Apple CarPlay could start to fall behind in adoption. Of course, Apple's doing its own mysterious things with cars, so we'll keep you posted on how this race progresses.