Android 6.0 review: A small but significant bump for the world's dominant OS
All the big changes happened in Lollipop. Now it's Marshmallow's turn to show the world how useful and personal Android can be.
The backups only work with Marshmallow devices currently, which is confusing considering Google will be updating the API through Google Play Services. Overall, it doesn't seem like this feature is fully baked yet, so I'll have to report back after a bit of time with it.
Doze puts your battery to sleep
Although it sounds like a brand of cough syrup, Doze is actually Marshmallow's new and fantastic battery-saving feature. When you leave your phone or tablet alone on a desk or kitchen table somewhere, the device goes into a hibernation mode of sorts to hold on to whatever battery power it has left. Network access and background processes are batched together and run infrequently, with only high-priority tasks running as usual. Once you turn the screen on, all the notifications will come blasting at you at once, like your device's been revived from the dead. It's an amazing feature and I was thoroughly impressed by how little energy the Nexus 6 burned through the night. With Wi-Fi on, it only used up two percent of its battery life, and with LTE on, it only ate through ten percent.
Doze uses the accelerometer to determine when to go to sleep, so it won't kick in if you're walking to work or driving. It needs to stay still in one spot for a period of time before it starts. High priority messages from apps like Google Hangouts will still come through, though, which will keep the device from going to sleep unless you snooze notifications. Also, Google has given developers the ability to choose whether or not their app's notifications can push through the Doze mode. Here's to hoping you won't start getting notifications for silly things like a bonus coin offer in Pokemon Shuffle when your device should be resting up.
App Standby: a new way to shut off bloatware
I have serious Stockholm Syndrome with Verizon Wireless. I love Big Red's coverage, and its customer service has actually been pretty decent over the years, but the carrier keeps bundling in all these awful applications on the non-stock Android devices I bring home. I'll disable them, but sometimes they still managed to rear their ugly head on the next restart.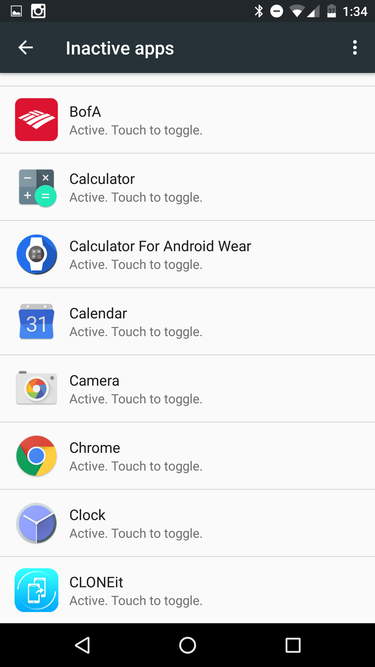 Tired of apps running rampant on your device? In Marshmallow, you can use App Standby to disable them.
App Standby is supposed to help with this annoying conundrum. It's a setting you can tinker with in Marshmallow's Developer options that lets you essentially deactivate applications so that they remain dormant. I wouldn't recommend using it unless you're really confident about tweaking Android, though this little feature could prove to be really helpful for those who are suffering from serious lag on third-party Android phones.
Previous Page 1 2 3 4 5 6 7 Next Page