Android 6.0 review: A small but significant bump for the world's dominant OS
All the big changes happened in Lollipop. Now it's Marshmallow's turn to show the world how useful and personal Android can be.
Marshmallow solves this dilemma with individual application permissions. The Play Store no longer asks you to agree to all permissions before you can install an app. Instead, the app will query you when it wants access to a part of your device—like the camera, for instance—and it's up to you to decide whether or not to allow it. If you deny it, any features that rely on that permission won't work, but the rest of the app will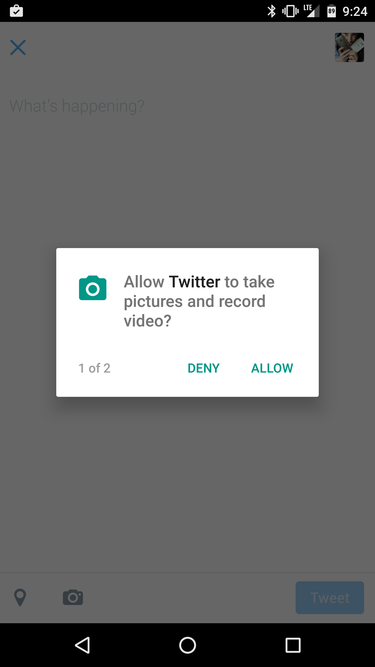 Twitter kindly asked twice if it's okay to launch the camera on my Android device.
The idea that you have control over Android as your personal operating system is no longer an illusion. Application permissions are useful precisely because they offer context when an app needs access to something. Permissions might also help instill a newfound sense of confidence in those users who might have otherwise been on the fence about sticking with Android because of the latest security woes, though they're not a failsafe against major vulnerabilities like Stagefright.
A better backup solution—supposedly
Android's been a particularly bad operating system for those who often jump between devices. I can attest that before Tap & Go was introduced in Lollipop, it was a serious pain in the ass to swap SIM cards between review devices.
While Tap & Go has made it easier to get your apps onto a new device, the data contained within those apps don't come along for the ride. And though Android has had a backup solution in place since Froyo, it's never quite worked as well as it should have.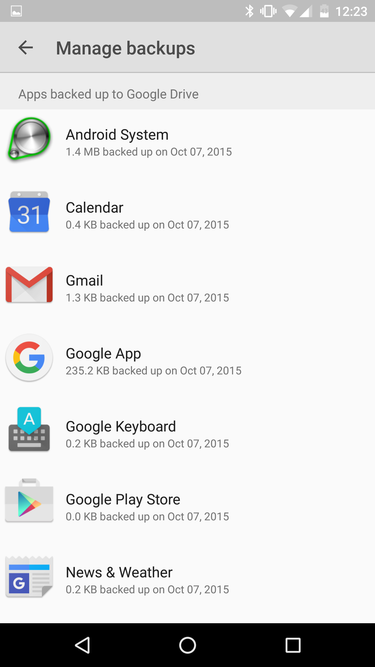 It's nice to have some backup solution in place, but it's not the unicorn we've been waiting for.
Marshmallow offers Auto Backup and, supposedly, it works—I write this with some skepticism because I haven't been able to test it fully. This is an issue Ron Amadeo's had at Ars Technica, and we even discussed it at length on Episode 234 of All About Android. I've noticed that Marshmallow is backing up some applications, but I haven't actually done a full restore to test its backup abilities. And that's because it's not backing up much save for a few Google apps and Podkicker Pro, randomly.
But here's how it works: Marshmallow takes all the application data, including user-generated elements like accounts and preferences, and uploads it all into Google Drive. It stores all your call logs and Wi-Fi passwords, too, and none of that data will count toward your Drive storage quota. By default, automatic backups will occur every 24 hours once the device is idle and connected to Wi-Fi. You can then check on your backup data through the Google Drive app, though you can't individually manage what data is stored and which applications are backed up.
Previous Page 1 2 3 4 5 6 7 Next Page