Android 6.0 review: A small but significant bump for the world's dominant OS
All the big changes happened in Lollipop. Now it's Marshmallow's turn to show the world how useful and personal Android can be.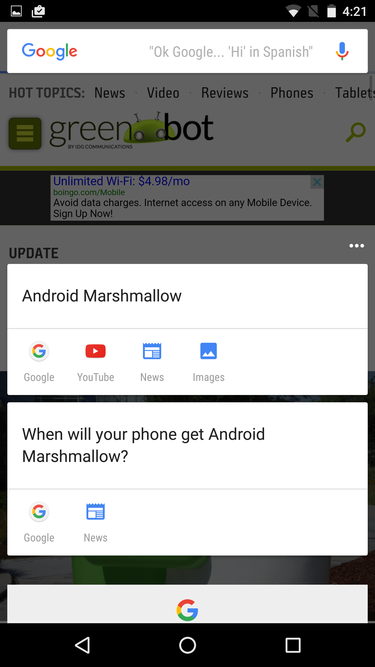 Now on Tap skipped the irrelevant information and jumps right to the overarching context of the article.
In an article on Marshmallow updates, Now on Tap managed to ignore the mention of the numerous Android OEMs sprinkled throughout and instead caught that the context of the article is about when those particular devices would be updated. And then, it provided quick access links to learn more.

Using Now on Tap is so much easier than copying and pasting the location name into the Google search app.
Now on Tap works with third-party applications, too. In Instagram, for instance, you typically have to tap about two to three times to open up the Google Maps app and navigate to a location where your friends have checked in. But with Now on Tap, you can just hold down the Home button with the photo on screen and it offers up a quick link to Street View. You tap that option, and then Google retrieves an actual photo of the location in question. It's so much easier.

This is a friendly reminder to treat yo' self once in a while.
By far, my favorite use for Now on Tap is when Google Now isn't doing its job with appointment reminders. I like to primp on the weekends, and oftentimes I lose track of when I'm getting my hair colored or when I'm due for a manicure. But now when I'm in my email, I just hold down the Home button to quickly add an appointment reminder to my calendar. It's just two taps!
Now on Tap is on as long as you've opted into it, just like you did with Google Now when you first logged in to your device. The idea is that if you're using a Google phone, then Google's search engine should be the one you turn to for more context. My life is seriously so much easier because of it, and I no longer have to copy words and things just to paste them into other apps.
Make your own decisions with Permissions
Application permissions have become a bit of an emotionally-charged topic over the years. In Android 4.3, Google introduced App Ops to try to help users figure out which apps were being overly intrusive, though it was quickly pulled because it rendered some applications useless. Currently, if you don't like that an application has access to a sensitive part of your OS, your only option is to opt out of installing it. This is pretty limiting.

Application permissions are easily the second best part of Marshmallow, though it would have been nice to have them sooner.
Previous Page 1 2 3 4 5 6 7 Next Page