Android 6.0 review: A small but significant bump for the world's dominant OS
All the big changes happened in Lollipop. Now it's Marshmallow's turn to show the world how useful and personal Android can be.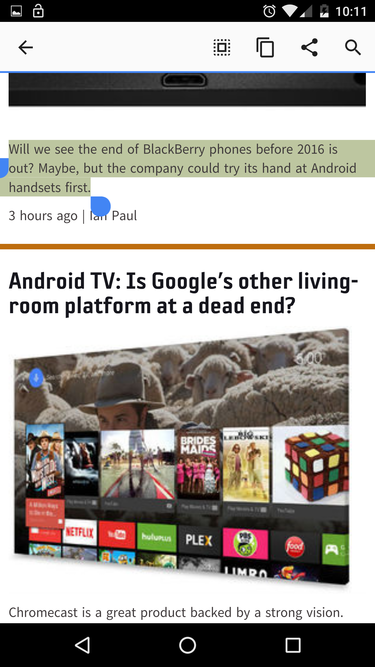 Weirdly, Google Chrome uses the older copy and paste mechanism.
There is one caveat, however: some applications don't yet support this new copy and paste mechanism. Google Chrome, for instance, still uses the copy and paste toolbar at the top of the screen. I'm sure this'll change with a future update, but it'd be nice to see some consistency from Google across the board.
A more informative Settings menu
I appreciate that with every new version of Android, Google beefs up the Settings menu just a little bit more. But sometimes, it serves as reminder that Google's still figuring out how to organize Android.

Now Android tells you the last time you've received a security update.
For instance, if you scroll down in the Settings to the About tab, you'll find a section detailing the last time you've received a security update. I like that this sort of transparency is now commonplace, but it's something that Android should have done from the get-go. It certainly would have helped in negating some of those "Android is not secure!" fears.

From left to right: the Settings panel, your Google account settings, and the Memory management panel.
The Google Settings app no longer exists, and instead it's a menu item in the Settings. It's too obvious that this should have been a part of the Settings menu in the first place, but I suppose it's better late than never. You can now also peep the new Memory management menu to check on how much RAM your device is using and whether or not it's doing so at a normal rate. I plan to use this feature religiously when I get Marshmallow on my Galaxy S6 Edge.
Now on Tap is watching you
If you've been wondering why you were giving Google access to so much of your information all this time, look no further than Google Now on Tap. It's not only one of the best features of Marshmallow, but it also serves as reminder of how Apple's Siri and Microsoft's Cortana still fall short.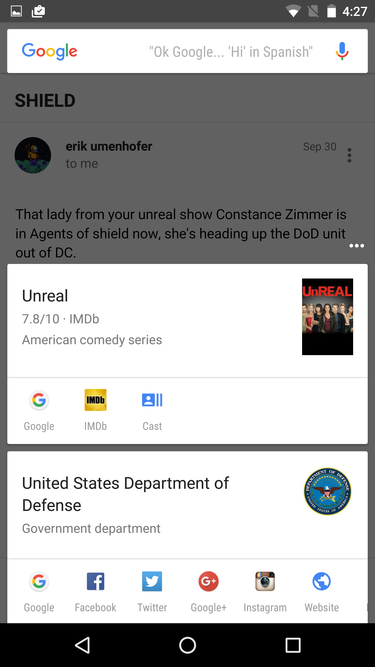 Now on Tap cleverly delivers details based on the context of whatever's on screen.
Google's always curious about the context of your Internet activity, so it built the Now on Tap API to hook into what you're seeing on screen and deliver search results in a matter that's relevant. The minute you hold down the Home button to engage it, Now on Tap is actively attempting to figure out what's most important about what you're looking at.
Previous Page 1 2 3 4 5 6 7 Next Page