An iPhone user's (surprisingly positive) experience with Windows Phone
Hey, Cortana! Kirk McElhearn gave up his iPhone for more than a month to see if the grass is greener on Windows Phone.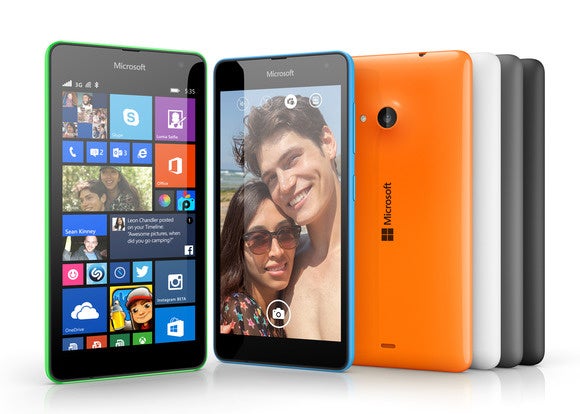 Just over a year ago, I experimented with an Android phone. I'd been curious about Android, and felt the best way to appreciate what it offers--and compare it to iOS--was to try it out in a real-world situation.
This past Christmas, a visitor proudly showed my his Windows phone, and I was intrigued. After getting a good tour of the Windows Phone OS, I decided to buy a cheap, unlocked phone and try it for myself. I've been using it off and on for the past two months. While I wouldn't switch from my iPhone, I'm quite impressed by what Microsoft has done.
Getting the hardware
As with Android, there are lots of Windows phones to choose from. It's not just a question of silver, space gray or gold; it's a full line of phones at a wide range of prices, from multiple manufacturers. The phone I had seen at Christmas was the Lumia 930, Microsoft's "flagship" phone, which is a well-built, attractive phone, but still about half the price of an iPhone. I didn't want to spend that much money, so I opted for the £90 Lumia 535 (current price is the US, about $130--150). When I purchased it in January, the Microsoft-built Lumia 535 was the cheapest phone that shipped with Windows 8.1 Denim, the latest version of the Windows Phone OS.
The phone itself is as you would expect for a device that price. It's got a 5-inch display (a bit bigger than the iPhone 6), and the plastic back pops off easily to insert your SIM card, SD card, and change the battery, if you ever need to. (While the phone only comes with 8GB storage, I added a 32GB SD card.)
While it doesn't feel as well crafted as an iPhone, it's comfortable to hold; it's not as slippery as the iPhone 6, in fact, making it a bit easier to hold on to. The 5MP camera doesn't hold a candle to that of the iPhone, and the glass is certainly cheaper, but for the price, what do you expect?
Trying on Denim
What interested me most in this phone is the operating system. As much as I found Android clunky and unattractively designed, I was very impressed by Windows Phone 8.1 (hereafter, Denim). Setting up the phone was a lot easier than setting up the Android phone, in part because Denim supports iCloud for contacts and calendars out of the box. You simply add your iCloud account, and you can access and update your data easily. With Android, third-party tools are often needed, making it a real headache.