'An incredible experience' says owner who sold his antique Apple-1 for $365K today
38-year-old computer fails to make Christie's pre-auction estimate, goes for 40% of October record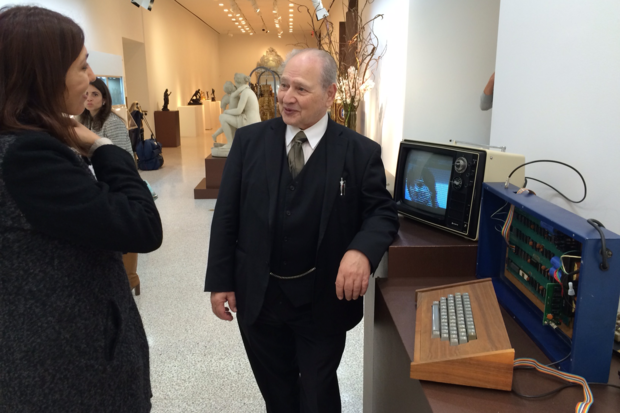 A dapper Ron Wayne, center, poses at Christie's in New York prior to today's auction of the Ricketts Apple-1 (on the right) and his own collection of documentation from the very early days of Apple. Both lots sold to bidders over the telephone. Credit: Bob Luther
A vintage Apple-1 personal computer that was sold 38 years ago to a buyer out of Steve Jobs' garage went for $365,000 today at Christie's in New York City, thousands under the auction house's lowest estimate.
The gavel price was just 40% that paid in October by The Henry Ford, a museum in Dearborn, Mich., which wrote a check for $905,000 for a different machine. Previously, Christie's had forecast today's Apple-1 would sell for between $400,000 and $600,000.
"It was a little disappointing," admitted Bob Luther, about the selling price of his Apple-1. "But it was time for me to move on, and it's good that it's sold. Owning it has been an incredible experience. And I can't complain. I'm a big Apple fan and I'm not very diversified in my 401(k) because a very high percentage of it is in Apple stock. And [that Apple stock] has been very good to me."
At the same auction, a collection of documents owned by Ron Wayne, the third -- and little-known -- co-founder of Apple, sold for $25,000, also below its Christie's estimate. Wayne, now 80, was offered a 10% share in the new company in 1976, but days after joining the partnership he backed out. Wayne received $800 for his shares.
Both the Apple-1 and Wayne's collection were purchased through telephone bids at the auction today, which Luther attended. "So I wasn't able to go up to them and congratulate them on the purchase," he said.
Luther's Apple-1 was distinctive not only because of its rarity -- there are only about 60 known to exist -- but because of its provenance. Included with the computer, which in reality was little more than a circuit board, was a canceled July 1976 check for $600 made out to Apple Computer by the original owner, Charles Ricketts.
According to Luther, Ricketts' Apple-1 was the only documented direct-to-a-customer sale that Apple made. Most of the systems that co-founder Steve Wozniak designed -- and with the help of Steve Jobs and others, hand-built -- were sold to the iconic Byte Shop, an early computer store in Mountain View, Calif.
Luther purchased the Apple-1 at a sheriff's sale in 2004 for $7,600, so even though his antique went for less than Christie's anticipated, he still realized a profit in excess of 3,800%. Subtracting Christie's "premium" -- the auction term for a commission -- Luther received approximately $300,000 for the Apple-1.