AMD fires back at Intel's Haswell with its A-Series desktop processors
AMD has launched its latest A-series APUs, which integrate powerful graphics and microprocessor technology to take on Intel's latest microprocessor, Haswell.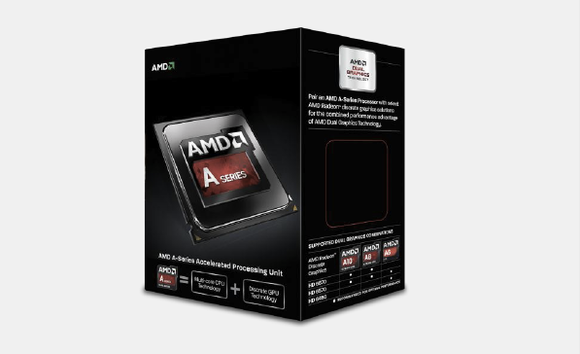 On Saturday, Intel fired a salvo of "Haswell" microprocessors across AMD's bow. Now, Intel's chief rival has responded in kind, with five new desktop processors that combine midrange microprocessor power with AMD's powerful graphics technology.
AMD's A team is the A-series: the A10, A8, and A6 chips, aimed at Intel's Core i3 and Core i5 microprocessors. Although AMD calls the chips its flagship offering, the A-series chips concede the high end of the market to Intel's Core i7. On the other hand, they're priced accordingly: AMD sells the low-end A6-6400K for $77, on up to the $149 A10-6800K.
Overall, AMD says Richland will yield 21 percent more graphics performance (using the 3DMark "Fire Strike" benchmark) versus the previous generation, dubbed "Trinity," as well as 8 percent more performance using the more generic PCMark 7 benchmark. That's because the Richland chips include Radeon HD 8000-quality graphics. All of the Richland APUs are part of what AMD calls its "Elite A-Series" platform, and will be built into PCs from Acer and Hewlett-Packard.
The "Trinity" parts won't go way, at least immediately, according to Adam Kozak, a senior product marketing manager for AMD. Instead, they'll simply slot in alongside Richland.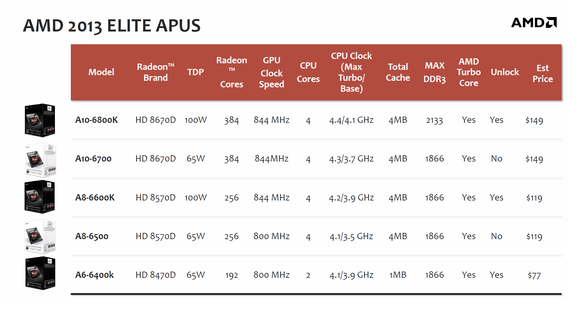 AMD. AMD's new A-series APU lineup.
Note that some of the latest Intel Haswell parts consume less power than the new AMD APUs. Here's a snippet of Intel's Haswell specs (for the Core i5) by way of comparison: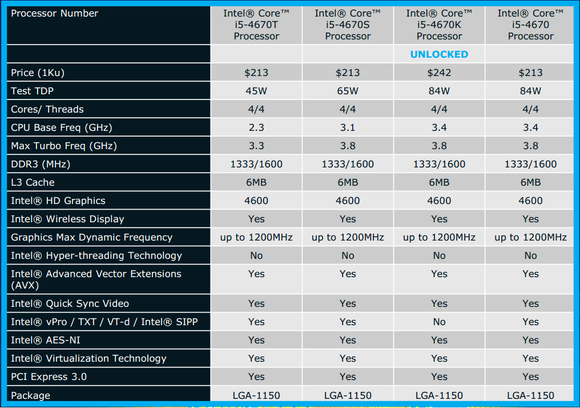 AMD: #2 and not liking it
Although Intel far outsells AMD in the desktop space (Intel has about 80 percent of the desktop PC market in terms of the number of processors sold, according to Mercury Research), AMD has gamely hung in there, divesting its manufacturing operations and even selling its offices (then leasing them back) in an effort to save cash.
AMD recently detailed its three mobile platforms: Temash, Kabini, and Richland, in an effort to chase down Intel in the mobile space. At the Computex show in Taiwan, AMD specifically outlined its plans for the desktop version of the Richland platform; an update to the Kabini all-in-one platform is also due for 2013, executives said.
Once, the desktop was the battleground over which Intel and AMD's chips pushed to and fro, each seeking to outdo the others in terms of graphics and raw processing power. Today, with desktops on the decline, AMD is battling for a smaller slice of PC gamers who may or may not want to add in a discrete GPU in the future, and where price continues to be a driving factor. AMD also suffered from some missteps that caused the company to lose ground in the race between itself and Intel, noted Patrick Moorhead, principal at Moor Insights and Research.