Amazon Fire Phone apps: How does Fire OS compare to Android?
Even though the phone comes with a range of built-in apps, the apps have some catching up to do with its stock counterparts found in iOS and Android.
Hey, what about Instagram?
The biggest bummer about Fire OS is that its Amazon Appstore isn't nearly as full as iOS's App Store and Android's Google Play Store, with around 240,000 apps compared to more than 1 million in the other markets. Even though it runs an Android version of sorts, not every Android app is compatible with the Fire Phone.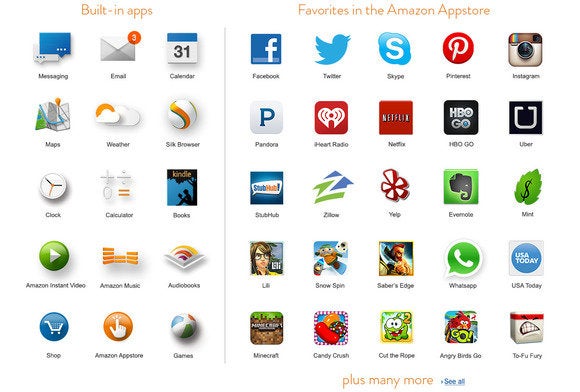 AMAZON. Though Amazon lists Instagram and other apps as available now, that's not entirely true. Hopefully it will be by launch.
The good news is that you'll find many of your favorite apps ready to go, including Facebook, Twitter, and Vine on the social side; streaming entertainment from Pandora, iHeartRadio, HBO Go, Netflix, and Hulu Plus; communication apps like Skype and Kik Messenger; and other popular choices like Candy Crush Saga, Mint, Evernote, Dropbox, Pocket, StubHub, and HotelTonight.
It appears as though updates for many of these apps are in the works, so hopefully they'll be optimized for the Fire Phone when it launches on July 25. While Fire OS has many of the basics, there are still quite a few things missing, notably Instagram, Pinterest, Uber, and WhatsApp. You also won't find many of the Google apps that both Android and iOS users have come to depend on: No Gmail, Chrome, Maps, or Drive, though Amazon has its own versions of each.
Amazon promises that more third-party apps are in development for Fire OS. The company on Wednesday released SDKs for both Dynamic Perspective and Firefly, so developers can integrate those marquis Fire Phone features into their apps--Jeff Bezos demonstrated on stage, for example, how using Firefly to identify a song could result in deep links to iHeartRadio (to start a new station based on that song) and StubHub (to search for concert tickets). Amazon also said on Wednesday that apps submitted by July 18 will make it into the Appstore for the July 25 launch.
We won't know what will make the cut until then, but we'll be sure to take each of these apps for a test run.