All the news that's fit to squish -- on a smartwatch
New York Times to put one-sentence stories on Apple Watch, possibly others.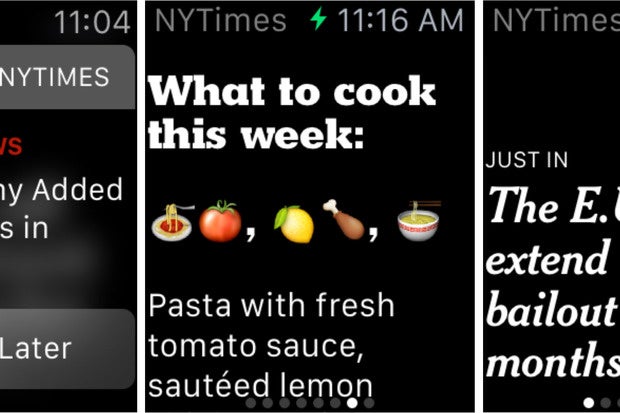 The New York Times plans to offer a variety of stories and other features in bite-sized bits on the Apple Watch.Credit: New York Times
It was probably inevitable: The New York Times announced Tuesday it will produce one-sentence stories and other content on various topics for the Apple Watch, the day the device first goes on sale on April 24.
The Times was also early to appear with its content on both the iPhone and iPad. Still, there's something decidedly different this time -- even a little scary to some -- about producing short text, photos and other content for the small Apple Watches that come in just 38mm and 42mm sizes. Analysts said it's inevitable that Times content will eventually appear on Android Wear and other smartwatch OSes -- along with advertisements.
"This sounds like truly snack-sized information," said Kevin Burden, an analyst at 451 Research. "When I first heard of this, I thought, 'You don't even get just enough information to be dangerous anymore....' I'm not sure how this is going to catch on."
Others reacted with less concern, partly because the content will be coming from a highly-regarded news source that first began as a print publication in 1851. A one-sentence story isn't really much different than a text message or a short tweet via Twitter, some pundits argued. Remember, they said, the transition from print to digital was confusing to many at first, followed by the move from a large desktop display to a laptop to a smaller smartphone or tablet. Almost every news junkie with a smartphone has squinted through a long story on it now and then, though they might have preferred a larger format.
'All the news that's fit to print' gets a new mission
The Times said it has taken into account the small watch form factor, as well as the delicate task of delivering news in tidbits. A free app for Apple Watch will serve as an extension of NYTimes on the iPhone, according to Linda Zebian, director of corporate communications for The Times.
"One-sentence stories are accompanied by The Times' award-winning photography and short, bulleted summaries," she said via email.
Using Handoff, an Apple feature available with iOS 8 since last fall, it will be possible to continue reading any story on the Apple Watch or a person's iPhone or iPad, and users can tap "Save for Later" to build a personal reading list, Zebian said. The Times didn't describe whether or how it plans to allow Watch users to see the same stories on Apple's desktops or laptops, although that seems likely.