Alienware Alpha, the not-a-Steam-Machine gaming rig is available for preorder today
Plus: We get a look at the Alpha's console-like user interface, which allows you to run the whole system without ever seeing Windows 8.1.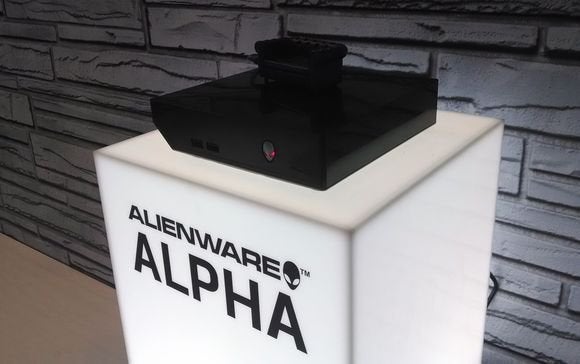 Alienware Alpha, the "Steam-Machine-That-Totally-Isn't-A-Steam-Machine-Because-It-Runs-Windows," is now available for preorder, the company announced Tuesday. The box retails for $550 and includes a wireless Xbox 360 controller.
We got a first look at the Alpha's UI last week in San Francisco, and the key word here is Console.
"This building that we're at right now, the foundation of this building, we can't see it," said Alienware business development manager Marc Diana. "We can't see what's behind this drywall. But we know what's behind there! We know that it's concrete and rebar and copper plumbing and all sorts of stuff. That's the same concept here. We know that Windows 8.1 is powering this experience, but a user doesn't have to see it if they don't want to."
The standard Alpha experience is all governed with a controller, using Alienware's custom Alpha UI. It looks a lot like Sony's XMB, used on the PlayStation 3 and PlayStation 4. There's lots of horizontal scrolling, and a host of submenus. In other words, it's not at all the type of interface you'd want to use with a mouse, but it's perfect for a couch-friendly controller environment.
Alienware has folded all the things you typically must do when setting up a new computer into this controller-friendly interface: Entering a password to join a wireless network, setting the display resolution, configuring audio settings, and more. You can even adjust the overscan so UI elements don't disappear beyond the edges of your TV's screen--something that's not easy to do when running a standard Windows machine on a TV.
You can still mess with some basic settings after the initial set-up, and shut down the machine with just a controller paired. The Alpha keeps Windows and graphics drivers updated automatically, though you can of course adjust those settings. It's all very console-like, down to the somewhat cumbersome use of a virtual keyboard.
Right now the main Console Mode page is limited to Settings, Power options, and Steam, though Alienware isn't ruling out further shortcut apps later--say, a dedicated Netflix button. On the other hand, I'm told that Alpha is first and foremost for games, not media consumption; besides, you could always navigate to Desktop Mode and open Netflix that way. It's just not as convenient.
You can also plug in a real mouse and keyboard at any time and run the Alpha as a standard desktop. You could even throw out your normal PC rig and just run an Alpha as a mid-tier machine. Plugging in a mouse enables you to access desktop mode and switch back and forth between that and console mode.