Alcatel Onetouch Watch review: A cheap smartwatch with training wheels
It's not a great smartwatch. It's not even a good smartwatch. But it will put notifications and activity-tracking on your wrist, and give you an idea of what smartwatches are all about.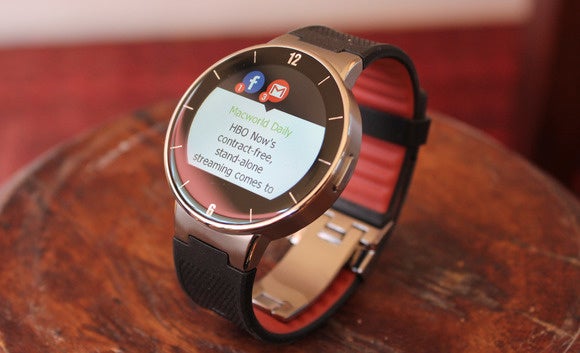 The Alcatel Onetouch Watch isn't snazzy-beautiful, and it's not packed with features. But at only $150, it's one of the cheapest smartwatches you can buy--and that might seal the deal if you're merely smartwatch-curious instead of smartwatch-confirmed.
It's sort of like a clip-on tie, or a Barbie bike with training wheels. Consider it Baby's First Smartwatch, a disposable purchase that can that give you a taste of what a $350 Apple Watch or $300 Android Wear watch is like to use. Do you even want smartphone notifications on your wrist? What about simple activity tracking? The Alcatel Watch--which pairs with any iPhone from 4S to 6 Plus, and any Android phone running 4.3 and later--can put you in the smartwatch game without a major investment.
Alcatel's metal case is unremarkable but inoffensive, and from 10 feet away, its circular design doesn't read "nerd" as loudly as the square-shaped Apple Watch. But once you get up close and see Alcatel's cheapo rubber band, the design belies its price tag.
You can't swap in your own replacement band, because Alcatel integrates its charging point directly into the strap. On the plus side, the watch powers up via a standard USB connector, so you'll never need to worry about proprietary charging cradles. Alcatel claims between two and five days of battery life, and I found the watch lasted well into three days at its medium brightness setting.
Underbaked apps and notifications
Smartwatch displays are just too small and fiddly to comfortably support a lot of features. Samsung tried to pack too much into its original Galaxy Gear, and I fear Apple is following that same over-ambitious path with its watch. And then you have the Alcatel Watch, which doesn't run any third-party watch apps, and offers very, very little in terms of smart features.
You get notifications for a small set of smartphone apps (e.g., Twitter, Facebook, email and messaging); caller ID with call accept and decline functions; entry-level activity-tracking features; and a small set-of built-in apps that are essentially table stakes in the smartwatch game. I dig smartwatch simplicity, but Alcatel's approach feels underbaked, especially because trivial, lightweight utilities like a brightness selector and airplane mode switch are given just as much U.I. weight as built-in weather and activity-tracking apps.
Alcatel's notification engine provides only a bare minimum of utility. Text messages render in full, but you can't reply to them from the watch, even with a canned, pre-formatted message. Facebook notifications merely report the highest-level activities (e.g., a friend has commented on your status), and email notifications only render subject lines once you have a few stacked up. And you can't tap a notification to spawn more information on your phone. Bummer.