Acer launches US$150 Windows tablet, upgrades Android offerings
Acer has refreshed its 8-inch Windows Iconia Tab tablet with a slightly more powerful processor, while pushing the price down further. Meanwhile, its Android lines have been upgraded.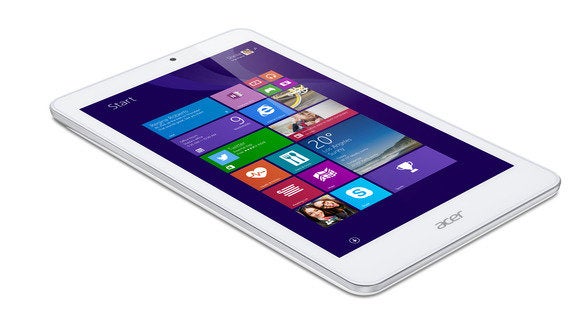 A year ago, Acer ushered in a new generation of 8-inch Windows tablets with an offering that, sadly, underperformed the category's potential. This fall, Acer has made its Windows tablets even cheaper, while marginally improving its Android tablet lines.
At IFA 2014 in Berlin, Acer announced three new tablets: the Iconia Tab 8 W, the next of Acer's 8-inch Windows tablets; a larger, 10-inch Iconia Tab 10 Android tablet; and the Iconia One 8, which adds an 8-inch option to the existing 7-inch Iconia One.
Although Acer didn't divulge pricing for the new Iconia One, the company has emphasized the low cost of both of its Iconia Tabs. The Tab 8 W will be available this November for just $150, while the Iconia Tab 10 will be priced at $199 and ship this month. By contrast, Acer's first Iconia W3 tablet retails for $200.
When customers think of Windows tablets, they most likely think first of the Surface, Microsoft's line of well-engineered, pricey Windows tablets. Acer's clearly headed in the opposite direction. For the $1,949 price of a single Core i7/512GB Surface Pro 3, you could buy 13 Tab 8 Ws. And there's an additional bonus, too: Each Iconia 8 W tablet ships with a year's free Office 365 Personal subscription, which is worth $70 all by itself.
The difference in performance, however, could be striking. Although the Iconia Tab 8 W includes a more powerful Intel Atom Z3735G "Bay Trail" processor, it only supports 1GB of RAM--a step down from April's $350 Acer Iconia W4, which included 2GB of memory. Both the W3 and the W4 suffered from a lackluster 1,280x800 display. While the Tab 8 W uses that same resolution, the panel now boasts IPS technology, hopefully resolving the washed-out look of the earlier models. But at just 9.75mm thick and 370 grams, you can't knock it for its portability. That's lighter (and smaller) than the one-pound iPad Air.
Acer also said it has kept its Acer Crunch keyboard accessory stand, which allows it to be used on the go.
There's one other possible drawback: the tablet includes the free version of Windows, aka Windows 8.1 with Bing. So search will default to Microsoft's search engine, which isn't all that bad; after all, Microsoft will pay you to use it.
Bigger, better Android options
In May, Acer launched the Acer Iconia Tab 8 and the Iconia One 7. Now, the company has offered larger options in both families, with a 10-inch Iconia Tab 10 complementing a new 8-inch Iconia One 8.