Acer announces Aspire R13, R14 convertibles and larger Switch series 2-in-1s
Flexibility is the watchword this year.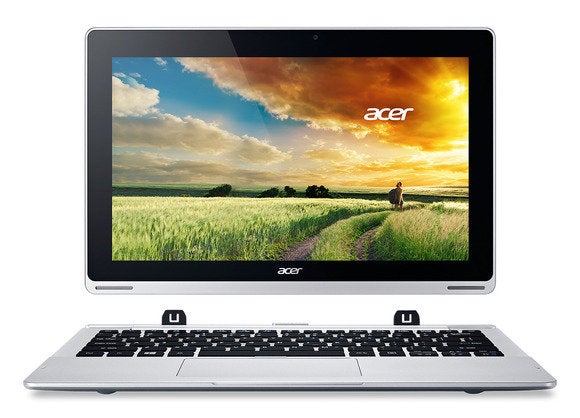 Even traditional clamshell notebooks have adopted tablet-like capabilities, as both Acer's new Aspire R 13 and 14 series, as well as the new Aspire Switch 10 and 11 2-in-1s, can now be detached or folded back into a tablet mode.
Acer launched the next generation of its mainstream Aspire R series at the IFA show in Germany on Wednesday, touting the literal flexibility of both families of R-series notebooks. Acer also launched new Switch all-in-ones, with a 10.1-inch model that features a full HD display and the new 11-inch Switch 11 series. Acer also separately announced upgrades to both its Android and Windows tablet lines.
With more buyers at least considering the option of a tablet to replace or supplement their traditional PC, Acer seemed to bend over backwards to emphasize its flexibility. And that applied to new microprocessor options, too.
While both of the Aspire R-series notebooks use traditional Intel Core microprocessors with either standalone or integrated graphics, Acer also adopted Intel's latest Atom microprocessors as low-cost, moderate-performance computing options for its consumer offerings. The Aspire Switch SW5-171 uses a fourth-generation Core i5 driving a 1080p display, but the Switch SW5-111 includes an Intel Atom Z3745, a "Bay Trail" Atom chip Intel is trying to establish as an alternative to Qualcomm embedded processors via "contra revenue," or payments to hardware makers. The Switch 10 will be priced as low as $330, Acer said, with shipments beginning in September.
Our earlier review of the Switch 10 found two significant problems: the anemic display and the equally poky processor. Acer has solved at least one of those issues, offering either a 1,920x1,200 or 1,280x800 display option on the new Switch SW5-012 for an undisclosed price. The tablet weighs 1.29 pounds alone or 2.58 pounds with the keyboard dock included. But there's still an undisclosed "quad-core Atom" chip inside along with either 32 or 64GB of storage and 2GB of memory, plus a 2GB Webcam. Fortunately, the Windows 8.1-powered 2-in-1 also ships with a year's subscription of Microsoft's Office 365 software installed.
The larger Switch 11, meanwhile, ships with 11.6-inch displays made out of Gorilla Glass 3. The Aspire Switch SW5-171 uses a Core i5 chip, mounted behind a 1080p display and an HD webcam, 4GB of memory and a 128GB SATA hard drive. The SW5-171 is the cheaper model, with a 1,366x768 display, the Intel Z345 chip found in the earlier Switch 10, 2GB of memory, and a 64GB MMC flash hard drive. A cheaper 2MP front-facing camera is also included. Both models include Windows 8.1, 802.11a/b/g/n Wi-Fi, a microHDMI connector, and a MicroSD slot.