A new crop of HP laptops flip or spin, and run Windows, Chrome or Android
New models sport 360-degree hinges and hybrid forms. A refreshed Chromebook comes in more colors. As for Android, it comes in a buzz-worthy yellow-and-black clamshell.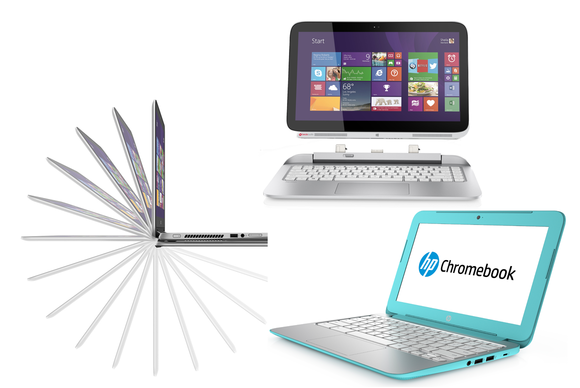 HP announced a versatile lineup of PCs and PC-shaped things on Monday (Taipei time) at Computex, embracing the new normal in the world of PCs — which is, nothing's normal.
A year ago, the PC diversification drive was just getting started, but now it's in full swing. You want a laptop that can flip over with a 360-degree display hinge? HP's got one. What about a laptop that can split in half? HP's got one. Or maybe it looks like a laptop, but it runs Chrome or Android — HP's got some of those as well. It's also got plain ol' Windows laptops and PCs, but that's not where the excitement is anymore.
Let's start with the hottest trend, which is notebooks that can flip all the way over to turn into a tablet, following the lead of Lenovo's Yoga series. HP debuted the Pavilion x360 with a full-rotation hinge at Mobile World Congress in Barcelona. Now it's got more fleshed-out specs, plus a fancier version that will carry HP's Envy moniker.
The Pavilion x360 will have a 13.3-inch touch display and your choice of graphics-oriented AMD A6, A8, or A10 CPUs, or more battery-efficient Intel Core i3 or Core i5 CPUs. Speaking of battery life, HP specs it at up to 8.25 hours with the Intel chips, but up to only 6.25 hours with the AMD chips.
The Pavilion x360's Memory will run up to 8GB, and hard-drive storage will range from 500GB to 1TB. The Pavilion x360 will weigh about 4.3 pounds and come in red or silver case colors. The AMD versions will cost $630 and be available on July 9, while the Intel-based models will cost $600 and be available July 20.
The Envy x360 will be physically bigger than its Pavilion cousin, sporting a 15.6-inch display, a heavier 5.8-pound weight, and Intel Core i3-i7 processors. It'll be configured with up to 8GB of RAM and up to 1TB of storage, including a hybrid option. Silver will be its sole case coloring. HP says the battery will last up to 7 hours. HP did not specify a ship date, but the price will be $680.
HP built several improvements into the new Split x2 hybrid, including a fanless design. Thanks to the advent of thinner hard drives, HP was also able to shift the main storage from the keyboard side to the tablet side, so users won't be separated from their data regardless of the mode.
The Split x2 configurations will offer Intel Bay Trail and Haswell CPUs, 4GB to 8GB of RAM, and up to 500GB of hybrid storage. The 13.3-inch tablet side weighs 2.45 pounds, but the full unit with keyboard attached weighs 4.3 pounds. The tablet alone lasts 5.25 hours per HP's spec or 7.75 hours with the keyboard (which has its own battery) attached. Colors will include white, silver, and red. The Split x2 will be available July 16th for a starting price of $600.