A mobile payment battle is blazing
All eyes are on Samsung Pay and its embedded LoopPay inside the Galaxy S6 smartphone.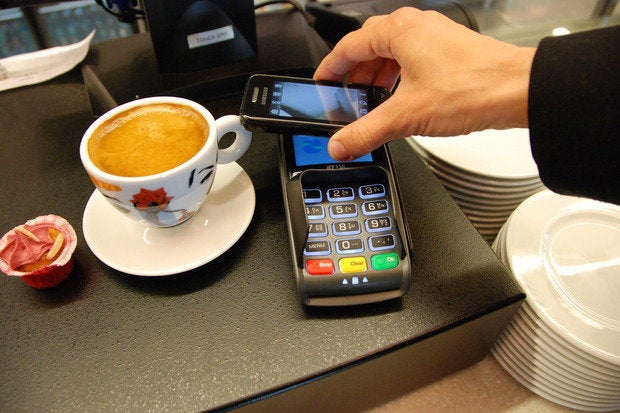 Mobile in-store payments could grow dramatically in the U.S. as the result of a battle brewing among tech giants Google, Samsung and Apple.
In the latest development, Samsung today revealed Samsung Pay, a new mobile payment strategy, combined with its new Galaxy S6 and Galaxy S6 Edge smartphones. Samsung Pay relies on two technologies: a new magnetic transmission capability from startup LoopPay embedded as a copper ring inside the Galaxy S6 and the older Near Field Communications technology used in earlier Galaxy S smartphones.
The two phones will ship April 10 in 20 countries , including the U.S., but Samsung Pay will not go live until this summer, first in the U.S. and South Korea.
Having both mobile payment technologies embedded inside the Galaxy S6 will allow its users to make purchases at up to 90% of the estimated 12 million payment locations at U.S. stores. That's because the lion's share of the older point-of-sale terminals in use in the U.S. still have magnetic stripe card readers which support the new Galaxy S6 technology.
By comparison, Apple Pay and Google Wallet rely on newer NFC-ready terminals, which are gradually being rolled out in the U.S. and should reach about 50% of point-of-sale locations by year's end, according to estimates by credit and debit card companies. While NFC grows, magnetic technology could help fill the mobile payment gap.
"Samsung Pay certainly heats up the competition, and that's a good thing for mobile payment adoption," said Gartner analyst Avivah Litan in an interview. "But Samsung still has a lot of work to do to improve the user experience before it can effectively compete with Apple."
Informal field tests by Gartner of the magnetic LoopPay technology showed inconsistent performance when used with some magnetic readers on stores' point-of-sale terminals, Litan said. Gartner used LoopPay's magnetic technology incorporated inside its earlier phone cases and fobs, not the same technology embedded in the Galaxy S6. Embedding the copper ring inside the Galaxy S6 will hopefully reduce the inconsistent performance, she said, but LoopPay "is definitely not going to work at every magnetic-stripe reader."
Samsung and Visa were investors in startup LoopPay last summer, and Samsung on Feb. 18 announced it had acquired LoopPay for an undisclosed sum.
MasterCard confirmed that it will support Samsung Pay by deploying tokenization software for both magnetic and NFC transactions. Other credit and debit card companies, such as Visa and American Express, will follow suit with tokenization and will also support Samsung Pay, Samsung said. Major credit card companies and banks have backed Apple Pay with NFC, which rolled out last fall for the iPhone 6 and iPhone 6 Plus, and have already widely marketed the concept. Bank of America, Chase, Citi and US Bank are also on board with Samsung Pay, Samsung said.