A developer's week working from the iPad
Everybody knows the iPad is only good for consumption—but contributor Marco Tabini somehow missed the memo and used it as its primary development device for a week.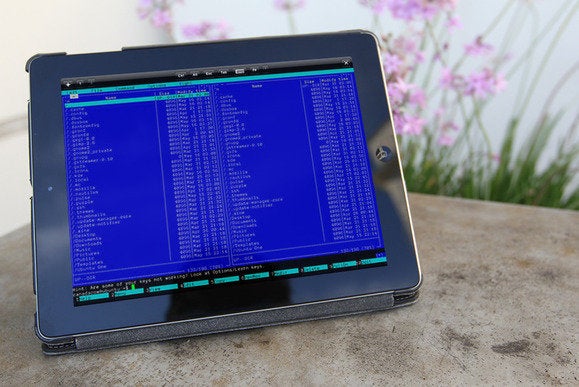 During the second half of December, Toronto—which I call home—suffered one of the harshest ice storms on record, knocking out our electricity for several days. It also left us with both a maple tree leaning precariously against our house's roof and, totally coincidentally, a sudden longing for warmer shores.
Before leaving on a week-long trip to Florida with my family, I filed enough stories to cover my Macworld work for the following seven days, but I still needed to tend to my day job as a developer. Since I didn't feel like leaving a $3000 MacBook Pro in my hotel room while I was shaking hands with Mickey Mouse, I decided to take only my iPad Air on the trip—not without a little apprehension, mind you, because, as everyone knows, the iPad is built for consumption, and not doing actual work.
Gearing up
My first order of business was to decide exactly what gear I'd need to take with me. I expected I'd have to type a lot, so I opted for the Logitech Tablet Keyboard for iPad, which has a nice, fullsize layout and comes with a case that turns into a convenient stand.
I also own a Folio Keyboard from Zagg, but I find that the larger Logitech is friendlier when typing code, which often requires the use of less-common keys that manufacturers tend to move around in an effort to fit full-size keyboards in the not-quite-fullsize space available in a combination keyboard/case.
Speaking of cases, I traded the Smart Cover I use at home for one of Apple's Smart Cases, just so that I could have a little extra protection while still keeping my gear lightweight and compact.
Can you hear me now?
Next, I wanted to make sure that I could keep in touch with my colleagues at Telemetry. Our development team is distributed all around the world, so we're used to the majority of our communications happening electronically. All I needed was Internet access and the specific communication apps we use.
Luckily, the resort I was staying at had excellent Wi-Fi, with a speedy connection, very little lag, and no blocked ports; this made it easy to use just about every service I needed, including connecting to our VPN and, through it, to various company servers. (Interestingly, Disney has also made Wi-Fi available through their properties, which means that I spent a week dodging crowds of people with their nose buried in their screens.)
Even though it sometimes gets a bad rap, iOS's built-in Mail app has always worked well for my admittedly modest emailing needs, and I had no trouble staying on top of my inbox throughout the trip. Even better, Apple has taken full advantage of iOS 7's support for keyboard shortcuts, which meant that almost every key combination I use on my Mac also worked on the iPad, reducing the time I spent tapping on the tablet's screen and increasing my productivity.