A car could be the final piece of Apple's puzzle
If we think of CarPlay like the Motorola ROKR, then the mythical Apple Car could be the iPhone.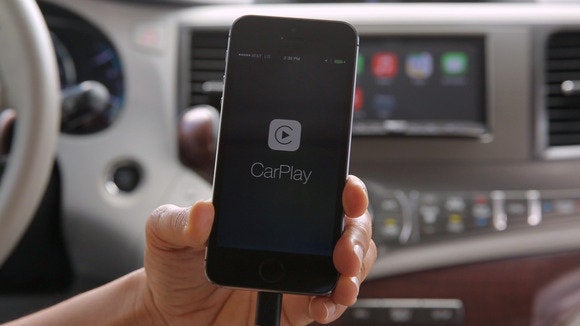 There's a hole in the digital hub. All day long we have a unique, immediate connection to the places we go, whether it's through an iPhone, Apple TV or, soon enough, an Apple Watch. HomeKit has brought a sense of unity to the Internet of Things. HealthKit has laid the foundation for a bridge between patient and doctor. Digital Touch gives us a quick, spontaneous way to communicate with our distant friends and loved ones.
But all that stops the moment we step into a car. CarPlay can link with our phones and let us dial and talk through our dashboards, but for the most part, the technology in our automobiles pales in comparison to what's in our pockets.
Even Tesla's ultra-modern interior of screens and digital sliders is still on an island of its own--no matter how luxurious it is when you're behind the wheel, the experience is bound by the four doors. And now it looks like Apple is trying to change that. If you missed the rumors late last week, somewhere in a secret lab at 1 Infinite Loop, Jony Ive is working on perhaps his greatest undertaking: a full-fledged automobile.
Limited visibility
When Eddie Cue demoed "iOS in the Car" back at WWDC in 2013, it seemed a bit half-baked. As he zipped through maps, messages and music, I was waiting for a wow moment that never came. By working with existing manufacturers, Apple was constricted by the screens and systems in place. iOS in the Car certainly looked better than any in-dash entertainment I had seen before--especially the one that's in my Hyundai Veloster--but it didn't really bring anything new to the table. It was like putting lipstick on a Siri-powered pig.
It's the same problem I had with the Motorola ROKR. Dubbed the Apple iTunes phone, it was supposed to bring a bit of the iPod ingenuity to our handsets, but in reality it merely created a bridge to the music locked on our Macs. The interface was a cheap imitation of the iPod's intuitive menu structure, and it was wrapped in a substandard package that tried to imagine what an Apple phone would look like. Basically, Apple was at Motorola's mercy, because no matter how good the iTunes app was, it was only part of the experience. And that's not how Apple operates.
With cars, Apple has even less control. Not only does CarPlay need to span a broad spectrum of manufacturers, it also has to be designed with an interface generic enough to work with both touch- and dial-controlled systems. It's a less-than-desirable solution, but there's no other way for Apple to make a true push into automobiles--just like it needed Motorola in 2005 to get its foot into the door of the cell phone industry.