8 ways Google is tying Chrome OS and Android together
Here are eight notable ways the lines between the two OS are beginning to blur.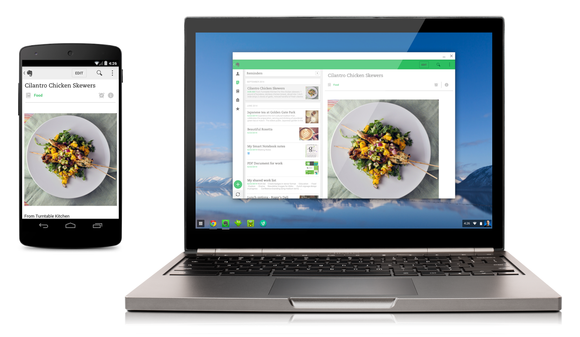 Fear not, true believers in the idea of different operating systems for different types of devices: Even though Chrome's engineering head has taken over Android's technical aspects, Google isn't likely to forcibly combine Chrome OS and Android into a Windows 8-style Frankenstein's monster any time soon. That said, Chrome OS and Android have been forging closer ties over the past months, evolving into two highly complementary operating systems.
Chrome OS can run Android apps, and Android can run Chrome apps. But it doesn't end there: New features will make a Chromebook and Android phone or tablet complement each other much more nicely. Here are eight notable ways the lines are beginning to blur.
Easy Unlock
Chromebooks will be getting an "Easy Unlock" feature that can automatically unlock them when an associated Android phone is nearby. As long as you have your Android phone in your pocket, you can just open up your Chromebook and use it without entering your password. It might sound like magic, but the feature actually just uses Bluetooth and your Google account.
Android notifications on your Chromebook
At Google I/O 2014, Google demonstrated Android notifications appearing on your Chromebook. When you receive a phone call or text message, you'll get a pop-up notification on your Chromebook so you can see who's calling or skim the text message. You'll also get low-battery notifications so you'll know when to start charging your phone.
It's unclear just how many notifications will appear on your Chromebook, but those are the notifications Google showed off. If you really want Android notifications in Chrome, you can set up the PushBullet app to sync all (or some) of your Android device's notifications to your Chromebook (or any device with a Chrome browser) today.
Android apps on your Chromebook
Google recently brought four Android apps to Chrome OS, but that's only the beginning. The Android app runtime for Chrome will improve over time, and more apps will be added to the Chrome Web Store for easy installation.
In the meantime, you can already install any Android app in Chrome with a hack, giving a Chromebook access to a whole new universe of software. The apps will sync back and forth with your Android devices, assuming they support cloud sync, like a modern app should.
Chrome apps on Android
Google wants Chrome apps to run on Android, too. If you're a developer, you can create a Chrome web app and then package that app so it runs on Android. Google loves web apps, so this may even be the future--with web apps one day replacing those Java-based Android apps. The HTML5 app craze of years past sort of fizzled out in favor of native apps, however, so we'll have to see.