8 mobile OS features you saw on Android first
If your phone has free turn-by-turn navigation, LTE, or multitasking, you should thank Android.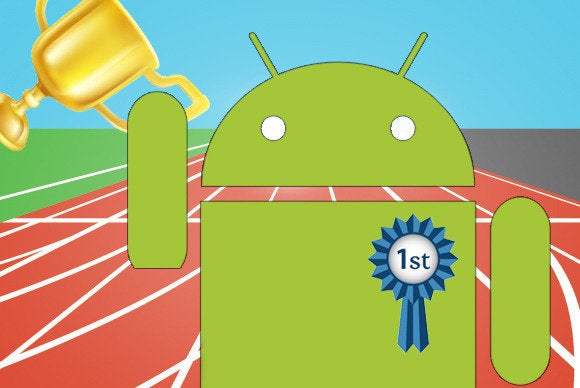 Android has always been about living on the cutting edge. While other mobile operating systems were just learning how to record HD videos, Android was letting you unlock your phone with your face. Google's robot-themed OS has consistently been the first to deliver a number of features that we now take for granted, so now, on the eve of Android's fifth birthday, it's time to give the little green guy the respect he deserves.
Without most of these features, smartphones would be downright boring--and not half as useful.
Free turn-by-turn directions
In 2009, Google managed to get a leg up on the mobile industry by offering free turn-by-turn directions in the Google Maps app for Android. The app was based on Google's preexisting Maps data and offered extra bits such as real-time traffic information, satellite view and Street View, and the ability to search for popular restaurants and places either by text input or voice.
Google only recently made its turn-by-turn functionality available on iOS, perhaps in response to the fact that Apple's own implementation launched with quite a few snags.
4G LTE
Although 4G had already been instituted by 2011, as mobile carriers decided to call advanced 3G HSPA+ service "4G," the first phone to bring LTE service to the market was the Samsung Galaxy Indulge. MetroPCS launched that Android phone first in a desperate attempt to put on a big show against the other major carriers. Verizon Wireless almost beat MetroPCS to the punch with its own 4G LTE device, the HTC Thunderbolt, but whichever way you look at the situation, Android was first to the LTE market by a hefty margin. Apple didn't pay much mind to 4G LTE until the release of the iPhone 5 last year.
Big displays
Samsung surprised us when it introduced the Galaxy Note phone-tablet hybrid in 2011. Back then its ginormous 5.3-inch screen size was much bigger than most phones on the market, but smaller than tablets. Many critics thought it would be too unwieldy to be comfortable, and too small to perform all the functions of an iPad or a 10-inch Android tablet. Eventually, however, Samsung would sell more than 5 million units of the device worldwide.
Other companies caught on to the large-screen trend, with HTC, LG, and Sony hopping on the bandwagon. Google even included native scaling abilities in Android 4.2 Jelly Bean, though the company hasn't really given in to the large-screen craze with its Nexus devices.
Voice actions
Long before Siri could answer your questions about the weather, Android featured native text-to-speech recognition. The functionality made the mobile operating system more accessible to those users with hearing or speech impairments, and the feature made it a cinch to perform activities such as texting a friend while driving. In Android 4.1 Jelly Bean, Google introduced offline voice dictation, which allows Android to turn your speech into text even if the device isn't connected to a network.