7 must-have wireless charging gadgets
These seven wireless charging devices can make powering up much less painful. Most are relatively affordable and they're great gifts for your loved ones — or for you.
Here are three of my favorite wireless charging pads.
Samsung Wireless Charge Pads (Qi)

Samsung's Qi wireless charge pad. Credit: Brian Sacco
Samsung's $49.99, 5v Wireless Charge Pad is well-designed and easy to use. It has a circular rubber ridge that helps hold your device in place while it charges. A plastic LED covers its circumference and glows to let you know if your Qi-compatible phone is properly placed or needs to be repositioned. If you own a Galaxy S6 device or Note5, it also uses audio alerts to signify charging progress. And it comes in both black and white.
Samsung offers a $70 "fast charge pad" that wirelessly powers up your phone "1.4x faster" than the 5v version, as well. Oh, and all you comic book fans will also be thrilled to hear the 5v pad is available in an "Avengers Edition" that looks just like Captain America's shield. Just don't attempt to use it in public.
WoodPuck from Fonesalesman (Qi)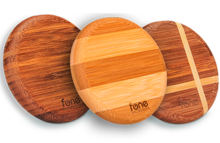 Credit: Fonesalesman
Fonesalesman's unique WoodPuck is made of genuine "Mao Zhu" bamboo, which is apparently the Chinese name for the popular "Moso" bamboo that reportedly grows much more quickly than the average tree and is therefore more sustainable. All that really matters to me is that it looks rather sharp sitting on the glass-and-oak end table in my living room.
The 5v WoodPuck costs $59.99, and you can pick from a number of coffee-inspired shades, including espresso, latte and macchiato.
Choetech Fast Charger (Qi)

Credit: Choetech
The smallest and most compact wireless charge pad we reviewed, Choetech's Fast Charger is also the most featured-packed and the speediest. It provides 10v output, so it charges two times faster than standard, 5v wireless chargers. A light around the bottom half of the charger glows blue when it's charging at 5v and green when a compatible device charges at 10v.
It comes in both white and black and costs $34.95 on Amazon.com, or $44.95 for a version that comes with a Qualcomm Quick Charge (QC) 2.0 adaptor, which is required for use with devices such as the Lumia 950.
2 quirky gadgets that look nothing like wireless chargers
Fonesalesman QiStone+ (Qi)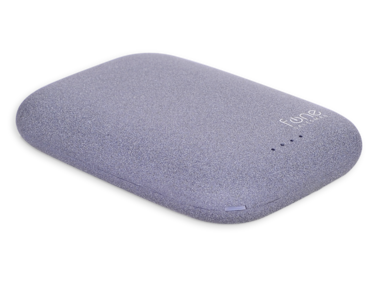 Credit: Fonesalesman
The $79.99 QiStone+ is not only a creatively designed wireless charge pad, it's a portable power bank with a built-in 4,000mAh battery — and you can wirelessly power up that internal battery by placing it on another wireless charge pad. In other words, QiStone+ is a power bank, with both a wireless transmitter and a receiver.