7 must-have wireless charging gadgets
These seven wireless charging devices can make powering up much less painful. Most are relatively affordable and they're great gifts for your loved ones — or for you.
The world of wireless charging is about to get a lot more … electric.
Wireless power support is baked into many of today's most popular devices, including Samsung's Galaxy S6 and Note5 phones, as well the new Motorola DROIDs — even the Apple Watch. Huge restaurant chains and cafes, such as McDonald's and Starbucks, as well as hospitality companies, including Marriott, are building wireless power "spots" right into their various public-facing establishments and facilities.
In other words, if you don't already wirelessly charge your phone or other mobile device, you soon will. Today, a number of technologies exist that enable wireless power transfer, but two standards lead the charge: the Wireless Power Consortium's Qi (say: chee) standard, and the Power Matters Alliance (PMA) standard. For this reason, we focused on Qi and PMA devices in this roundup.
Wireless power adaptors (Qi and PMA) for Lightning, micro USB
Own a phone that doesn't support built-in wireless charging, such as an iPhone or older Galaxy device? No worries, these two adaptors make it easy to power up just about any new-ish smartphone, without the wires.
iQi Mobile (Qi) for iPhone/Lightning

Credit: Fonesalesman
Fonesalesman's $35 iQi Mobile wireless charging adaptor is a simple, unobtrusive way to make your Lightning-equipped iPhone work with Qi-compatible wireless chargers. You simple plug it into your Lightning ports, stick it to the back of your iPhone, pop a thin case on there to cover it up, and you're good to go.
The device works exactly as advertised. However, your phone gets rather warm if you charge for extended periods; it's not exactly inconspicuous if you don't use a case; and it adds just enough bulk to make many cases bulge a bit.
Powermat Ring (PMA) for Lightning, micro USB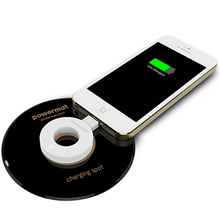 Credit: Powermat
The $10 Powermat Ring looks a lot like a giant Life Savers Mint that plugs into your Lightning or micro USB port and enables PMA wireless charging. Powermat and Starbucks are apparently good buddies, and Powermat charge spots are available for use at select Starbucks in the United States. You can use the Powermat iOS and Android apps to quickly find nearby businesses with Powermat spots.
The gizmo works as expected, but you'll want to be careful when it's plugged into your phone; if you accidently jerk it up or down, the rigid adaptor can damage your power port.
A wireless charge pad for every occasion
An Amazon.com search for "wireless charge pad" yields dozens of products, ranging in price from just a few dollars up to $50 or so. In other words, you have no shortage of options when choosing a wireless power charger, and you don't have to spend a lot of money to get one.