6 killer Mac features we'd love to see in Windows PCs
Even if you'd never lay a finger on a Mac, you have to admit these Apple-made features would rock on a Windows PC.
Even if the grass isn't greener on the other side of the fence, there's nothing wrong with tossing the occasional glance at your neighbor's fetching petunia patch. What, weak metaphorical analogies aren't your thing? Let's start again then.
Say, Macs have some enticing features, don't they?
Wait! Before you grab your pitchfork and start screaming for blood, remember that a deep-seated love for all things computing-related is literally a job requirement here at PCWorld. That said, Macs are PCs, too, and Apple's computers sport several stunning OS X specialties that have no native Windows analogue.
While these features aren't amazing enough to lure diehard Windows enthusiasts over to the fruity side, Microsoft would be well-served to steal these particular tricks from Apple's playbook.
1. Frequent operating system updates
The world of technology blazes by at blink-and-you'll-miss-it speeds, and the pace has only become more blistering in the few short years that smartphones and tablets have been on the market. Microsoft's traditional three-year release cycle just doesn't cut it anymore. The iPad, Siri, Google Now, touchscreen everything, cloud syncing services, and tons of other revolutionary technologies hit the market in the gap between the releases of Windows 7 and Windows 8, causing Microsoft to remain a perpetual step behind the competition.
Apple releases OS X updates on an annual(ish) basis, and fortunately, Microsoft looks poised to follow. Microsoft recently announced its intentions to transition toward a "continuous development cycle," and the recently leaked Windows Blue update is said to be the first of many annual upgrades for Windows. Our fingers are crossed.
2. Retina displays on laptops
C'mon, you knew this was going to be on the list. Why hasn't the MacBook Pro's drool-worthy Retina display crossed the divide, yet? Indistinguishable pixels are the greatest thing since sliced bread, massage chairs arguably aside.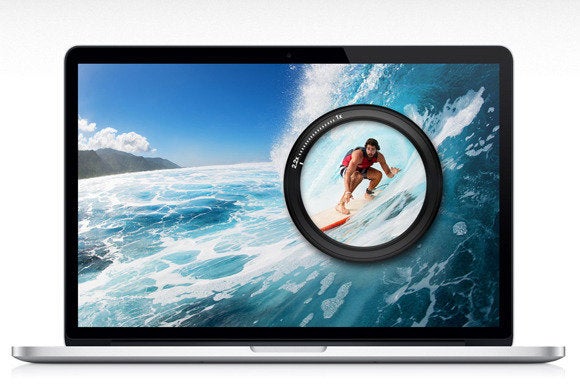 The MacBook Pro with Retina display: Gaze upon its beauty and weep, Windows enthusiasts.
Samsung showed off a Series 9 notebook with a 2560-by-1440-pixel display at the IFA trade show in Berlin last year, but when it came time to officially announce the model, it was saddled with an attractive yet pedestrian 1080p display. Now, a 1080p looks wonderful on a standard 13-to-15-inch laptop--it just doesn't look as wonderful as a silky-smooth Retina display.
Don't expect to see Retina-quality displays in Windows laptops any time soon, though. The high resolution gobbles up batteries in short order, which is nothing less than a kiss of death in a mobile device. Plus, their sky-high cost limits them to premium notebooks--a low-volume market for Windows PCs. Finally, even Apple can't sell these things. The first full quarter that the MacBook Pro with Retina was on the market saw only a 1 percent improvement in Mac sales compared with that period the previous year.