5 ways to use virtual reality in the enterprise
As Facebook and others push VR forward, there will be more uses for it than just games and social networking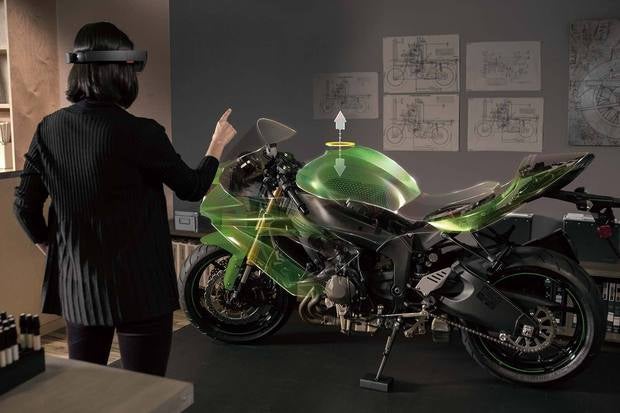 With the Microsoft's HoloLens headset, users can view virtual 3D images within the everyday real world.Credit: Microsoft
With Facebook executives focusing so much of their annual F8 developers conference on virtual reality, people are wondering how the technology will affect gaming and social networking.
But good virtual reality — the kind that makes you feel like you're really part of an experience — will have a huge impact on business.
For enterprises trying to differentiate themselves from their competitors, trying to connect with customers, trying to better show off their products and even make potential customers feel like they're trying out everything from a new car to a new iPhone before they buy it, virtual reality is likely to be a game changer for the enterprise.
"Probably in the mid-part of the next decade we'll see the major part of this impact on the market," said Rob Enderle, an analyst with the Enderle Group. "You need the technology to mature enough and that will probably take about five years, and then you need another five years to adjust to it. So enterprises might really be putting this to work for them in the mid-to-late 2020s."
Virtual reality is getting a lot of attention this week because the keynote during the second day of Facebook's annual F8 developer conference was largely focused on Oculus, a company that has built a virtual reality headset. Facebook bought Oculus in March 2014, and now the social network has big plans on developing not only virtual reality games but ways for Facebook users to communicate and share experiences using virtual reality.
Facebook executives want users to even create virtual reality experiences for their online friends. Google is also known to be developing virtual reality products, though it hasn't specified exactly what it's doing.
"Virtual reality done right truly is reality as far as the observer is concerned," said Michael Abrash, chief scientist for Oculus. "It enables us to create new realities. If it gets good enough, it should be able to create any experience we're capable of having."
If Facebook's vision becomes a reality, that will mean big things for gamers flying virtual fighter jets or fighting in medieval times.
What might it mean for the enterprise, though?
Well, it should mean better communications with customers, a better way to show off new products and even a better way to work with employees.
At this point, though, it's all about visions of how virtual reality might come into play in a business setting. Nothing is known for sure, but industry players are eager to try to figure out what might be coming.