5 ways Amazon's Fire Phone could sizzle or fizzle
Amazon's long-awaited smartphone is finally here, and as we put it through its paces, we're focusing on these make-or-break features.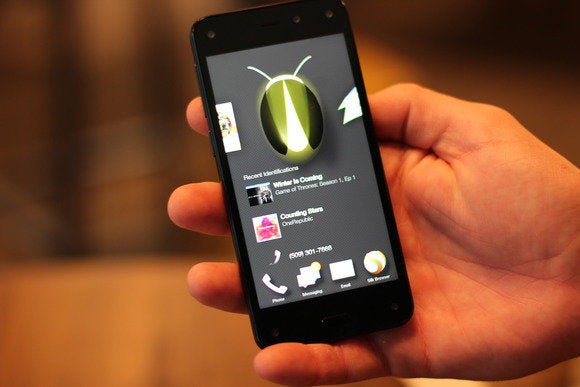 Amazon's Fire Phone arrived a little over halfway into my summer vacation, which is a fun time to test out a smartphone. In the last couple days, I've had tons of chances to capture memories with the phone's 13-megapixel camera, and test the turn-by-turn navigation while steering a rental car around unfamiliar streets. But I'm still in the process of working out who, if anyone, should pull the trigger on Amazon's very first foray into the crowded smartphone market.
TechHive's full review will post early next week, but for now, these are some of the things I'm most focused on while testing the Fire Phone. Got any burning questions of your own? Please let me know in the comments.
Can I handle the reduced set of apps?
The thing I'm the most worried about is having to buy all my Fire Phone apps from the Amazon Appstore. Amazon's Fire OS is based on Android but it's been changed enough that Google does not allow Amazon to use stock Android apps like Gmail, Google Calendar, and Hangouts. It doesn't even have an official YouTube client, or the Google Play Store. And of the dozen apps I use the most on my iPhone, how many will be available, or with close-enough equivalents?
So far it's like shopping in a little convenience store instead of a supermarket--most of the staple categories are represented, but you're not going to get a lot of choice within those smaller aisles, and they might not have your brand. Email is a great example. Amazon's Email app handles my Gmail account more or less OK. But even on my iPhone I use the Gmail app because it's the absolute best at doing Gmail, and so far I haven't come to terms with not having it here. I haven't gotten my Exchange account working, since I'm actually on vacation this week so the only thing I tried is just copying the same settings I use on my other phone. When that didn't work, I wanted to try the OWA app that I've used on both Android and iOS before I submit a helpdesk ticket, but it's not in the store.
So I'm really going to be paying attention to what I'm giving up app-wise if I go with the Fire Phone. Amazon's timing is really bad here--anyone switching to this from Android or iOS is going to be volunterily limiting their app choice pretty severely. For a tablet like the Kindle Fire HDX, not having access to your core suite of apps could be forgivable, since a lot of people use their tablets for entertainment. But a phone you carry with you every day is different.