5 tablets that reigned supreme in 2013
This was a hell of a year for tablets--and we're thankful for it, too, as 2012 was underwhelming.
Google Nexus 7 (second-generation)
Google delivered a hit with the first-generation Nexus 7, and this year the Android tablet received a huge refresh, officially becoming the best cheap tablet out there.
The revamped Nexus 7 is more than just a stock Android tablet. It features a 1.5GHz Qualcomm Snapdragon S4 Pro processor, up to 9 hours of battery life, goodies such as an MHL-compatible port for plugging into your HDTV, wireless-charging support, NFC, and a high-resolution, 1200-by-1980-pixel LCD screen. With a pixel density of 323 pixels per inch and a price tag less than $250, that's plenty of pixel bang for your buck.
If you grab a Nexus 7, you're guaranteed to get all the latest Android updates directly from Google for 18 months after the device's release date. It hasn't been too long since the tablet's initial release, and reports indicate that the second-generation Nexus 7 already has Android 4.4 KitKat, so have at it.
Amazon Kindle Fire HDX (7-inch and 8.9-inch)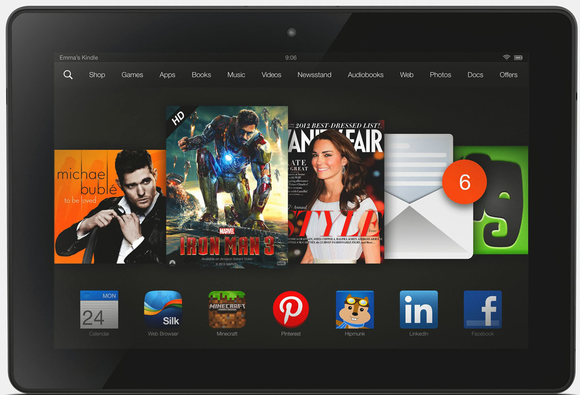 Amazon launched the third-generation 7-inch and 8.9-inch Kindle HDX tablets last month. Unlike with Apple's iPads and Google's second-gen Nexus 7, the HDX's hardware isn't its main selling point--though the hardware is much improved over that of last year's Kindle Fire. Its huge content library and its novice-friendly features are what make this tablet a worthy buy.
Both the 7-inch and 8.9-inch Kindle Fire HDX models boast some impressive specifications, including a 2.2GHz quad-core Qualcomm Snapdragon 800 processor, a high-resolution display, and up to 64GB of storage.
The real gold to be mined out of the Kindle HDX is its content-centric interface. Amazon's Fire OS 3.0 is essentially a "forked" version of Android, meaning that it's built on Android's original framework, so you might find some UI similarities. Every digital thing you've ever purchased on Amazon is readily available for your consumption, whether it's an ebook you bought last week or a bunch of MP3s you forgot you picked up last year. The Fire HDX's only drawback is that its Amazon App Store doesn't have all of the apps you might want to use.
The HDX is the friendliest tablet for people who are technophobic. If you're wondering about a feature or struggling with a problem, you no longer need to call a friend for tech support; instead, you can tap the Mayday button to start a live video chat with an Amazon customer representative who can walk you through the issue.
Microsoft Surface Pro 2
You have work to do? But maybe you want to watch a movie, too? The Surface Pro 2 is a hybrid device, in that it offers both a tablet environment and a laptop experience. But a regular ol' tablet it is not.