5 of the best Haswell-powered notebooks you can buy today
Tablets are great for what they are. When you need real computational power on the go, however, only a full-fledged laptop will do the job.
The new generation of Haswell laptops has something to say to all those trendy tablets: Eat my dust. A tablet is great for watching video and surfing the Web. With the right peripherals, you can even use a tablet for light productivity tasks. But when you need to get serious about editing digital media, playing real games, or storing lots of data--heck, doing anything the least bit computationally intensive without being tied to a desk--a mere tablet won't cut it. You need a laptop.
And with its fourth-generation Core family of CPUs, aka Haswell, Intel put a laserlike focus on building a chip that would deliver great performance for mobile computers. Haswell-class processors generate less heat, so they don't require noisy fans. They consume less power, so batteries last longer. And they include better integrated graphics technology, so you have less need for a discrete GPU that will generate heat and put another load on the battery. (Then again, Intel's best integrated graphics hardware still can't hold a candle to an upscale discrete graphics processor.) Best of all, these chips are more powerful than any mobile CPU in history.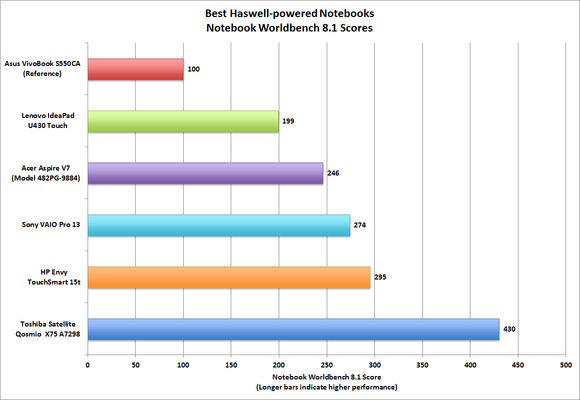 These are the Notebook WorldBench 8.1 scores for the five best Haswell notebooks we've reviewed this year. (The baseline score is 100.)
I've spent the past month or so laying my hands on various classes of Haswell-powered laptops: I've been benchmarking them, carrying them home and back to the office, using them on the train, playing games, pounding out documents, watching movies, editing digital media, and doing pretty much everything else you might do with a laptop. As per our standard practice, I used an Asus VivoBook S550CA as my reference notebook.
Now I'm ready to name the five best Haswell-powered laptops to reach the market so far. Rather than pull together the five most powerful (and most expensive) notebooks and call it a day, I've selected widely available machines that deliver the best bang for the buck at their respective prices, which range from a low of $700 to a high of $1900. I was pleasantly surprised to find that the laptop with the second-highest Notebook WorldBench 8.1 score was also the second-least expensive.
What's best for what?
Lenovo's IdeaPad U430 Touch is no killer gaming machine, but rather a good all-around laptop with a battery that will keep you productive all day. It's relatively thin, if not superlight, and with a price tag of $700, it boasts a killer price-to-performance ratio.
No two ways about it: You need a discrete graphics processor to get anything close to credible gaming performance on a notebook. HP managed to fit one into its Envy TouchSmart 15t while resisting the temptation to bulk up the machine with a lot of other high-performance components that would lift its price tag into the four-digit range. This model is one of the least-expensive gaming notebooks you can find. Read my hands-on review for additional details.