5 Android mail apps for the Gmail-weary
Maybe a new app will help you wrangle those massive piles of email.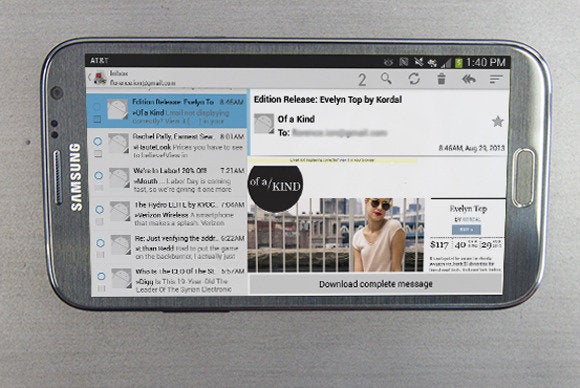 When it comes to quality third-party mail applications, it's slim pickings in the Google Play store. Android users are usually left to choose from Google's Gmail app or the manufacturer-provided option that came with their device.
Those aren't the only options for checking email, however, and if you've got multiple accounts across different services, you're probably looking for something with a little more functionality than what's offered. If you look hard enough, you'll find a number of feature-filled gems in the Google Play store just waiting to be installed. Some of the apps tack on features like added security and a "quiet mode" that mutes your email when you're not in the mood, while others are useful for dealing with the email aliases you've been collecting all those years.
MailDroid
If you can stomach the banner ad fixated on the bottom of the screen, MaiDroid is a powerful mail application that's both easy on the eyes and easy to use. It supports Webdav, POP3, and IMAP accounts, as well as Microsoft Exchange 2003, 2007, and 2010.
MailDroid comes with a versatile search filter and the ability to set up rule-based connections that can help you save cellular data or prioritize your existing connection for other apps. You can also set up Bookmarks to get quick access to specific folders within your account.
If spam is getting out of hand, you can pay MailDroid a monthly fee to rid of it for you. If you use your tablet to check email, the app also offers a split-screen mode. The app comes with a few caveats, however: Calendar integration and ActiveSync aren't supported and you'll have to fork over a whopping $17.99 to remove advertisements.
Price: Free or $17.99
K-9 Mail
Don't be fooled by its cheesy robot dog icon--K-9 Mail is a powerful email application that can help you manage multiple accounts. K-9 Mail automatically detects settings for every new email account and it features gestures and a split-screen mode that's not limited to tablets. There are also a plethora of settings to choose from for your various mail accounts and folders, and you can set up a "quiet time" to keep your phone from buzzing when you should be sleeping.Price: Free
K-@ Mail Pro
The streamlined and refined interface of K-@ is right up there with the best mail apps on Android. Like K-9 Mail, K-@ also features a "quiet time" setting, in addition to text-to-speech and lock-screen notifications for those especially important messages. As an added bonus, it comes with its own widgets and a variety of different split-screen modes.Price: $3.95