4 smartwatches (almost) ready for business use
Smartwatches may seem superfluous to some, but for business users on the go, these devices offer a promising way to look up information or even take phone calls without fumbling in a pocket or purse. If you think a smartwatch may be for you, consider one of these four options.
LG G Watch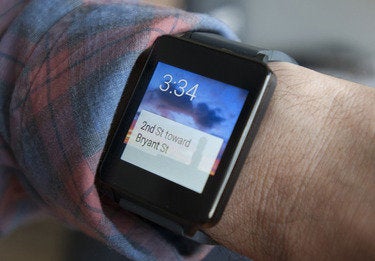 This elegant, square smartwatch connects to any Android phone and also uses Android Wear. That means all apps available for business will work on this model. You can also view cards that provide helpful reminders, flight info and scheduling info.
The water-resistant LG G Watch ($230) lasts one full day and weighs 2.2 ounces. It's available with a white or black band. The processor runs at 1.2GHz and there's 4GB of storage. The watch lacks a speaker, so you can't hear music or messages. (You'll have to stick with your phone for that.) However, there's a microphone so you can ask questions using Google Now. The display looks crisp and will continue showing the time even after you're done using it. For business users, the watch makes more of a subtle statement about practical use and admittedly isn't as flashy as some smartwatch models.
Motorola Moto 360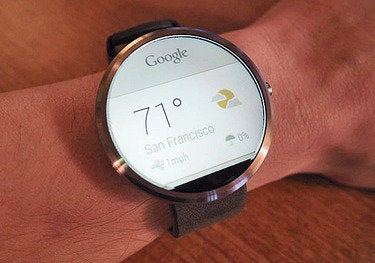 Easily the most attractive-looking smartwatch for business users, the circular Motorola Moto 360 ($250) looked incredibly crisp in our hands-on tests, almost like an e-reader. It's the first smartwatch that doesn't look like a smartwatch. (The Withings Activité has a similar rounded, designer look, but there's no exact ship date for that model.)
Moto 360 runs Android Wear, so it can run business apps, including Highlight (for making new business contacts), several airline apps and Google Maps. Android Wear also shows cards with reminders about flights, meetings, and tasks. The watch is available with a gray or black leather band and the display is made of Gorilla Glass. It, too, is water resistant, lasts one day, has 4GB of storage and runs at 1.2GHz.