4 smartwatches (almost) ready for business use
Smartwatches may seem superfluous to some, but for business users on the go, these devices offer a promising way to look up information or even take phone calls without fumbling in a pocket or purse. If you think a smartwatch may be for you, consider one of these four options.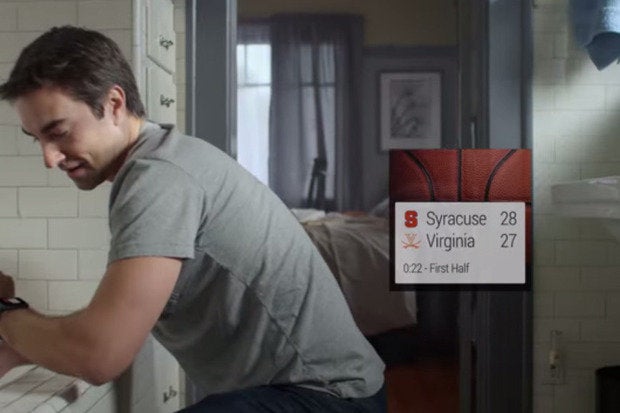 When you're giving your son a bath, you can't grab your smartwatch-but you can still summon a sports score on your Android Wear watch.
If there's any segment of the population that might gravitate to the smartwatch trend, it's business users. With a quick flick of the wrist, you can see the time, your meeting schedule and even whether you're running late for a flight. Many business folks already wear a watch to keep track of the time during a hectic day filled with meetings and other appointments. Plus, a smartwatch is an extension of the smartphone we already rely on for business trips (and just about everything else).
If you think you might be ready to make a purchase and jump on the smartwatch bandwagon, here are the best options.
Apple Watch

Apple surprised the world by announcing a smartwatch in September ... that won't be available until next year. What we know so far about Apple Watch ($350) is that the battery is expected to last about one full day. There's a speaker and a microphone in the watch, so you'll be able to make business calls. To respond to a text message or send a new one, you can dictate the message or choose a canned response. Apple says the watch will learn how you normally respond to texts and suggest that option.
The workout and health-tracking features aren't that helpful for someone in business, but the new Apple Pay feature -- which requires an iPhone 6 or 6 Plus -- could be revolutionary. It stores credit card information; with a tap, you can pay your hotel bill. Apple will offer a wide variety of watchbands and release two versions, including one that's a bit slimmer. No word yet on the exact storage allotment, the processor or other technical specs for the watch.
Samsung Gear Live

At just over 2 ounces, the Samsung Gear Live ($200) is a sleek, stylish watch that's not quite as bulky as other models. It runs on Android Wear -- like the LG G Watch and the Motorola 360 discussed below -- which means you can load apps such as the Wear Tip Calculator for business lunches, Trello for making to-do lists and Truecaller to see the name of a caller.
The water-resistant watch runs at 1.2GHz, has 4GB of internal memory and offers a 320x320 pixel screen. It uses a bright display that's easy to see in sunlight; set to a low brightness level, though, the watch will run for two days. Samsung Gear only comes in two band colors, black and purple. The watch is also water resistant and priced the lowest of any Android smartwatch.