4 fast note-taking tips for Android and iPhone
Hold that thought! Learn how to take voice and text memos without even unlocking your phone.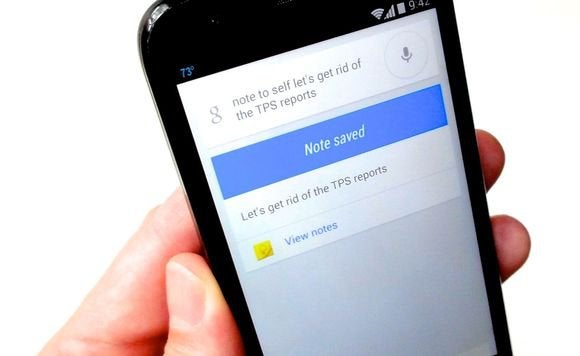 You're dashing off to that big meeting in the city when suddenly, it hits you: that big idea you've always been waiting for.
And then--going, going, gone.
I feel your pain. The most I typically can remember about my occasional good ideas is that, well, I had some.
The key, of course, is jotting down those brilliant thoughts before they disappear in a puff of neural smoke. Here are some speedy ways to record strokes of genius on your iPhone or Android phone--and ideally, without having to unlock your handset.
1. Tell Google Now [Android]
No time to tap that great idea into your Android phone? Just whisper it into Google Now's ear.
Google Now is, of course, an enhanced version of Google's mobile search app that does a particularly good job of following voice commands. Even better, you can set Google Now to work even when your Android phone is locked, perfect for quickly saving your big thoughts.
Of course, allowing Google Now access from the lock screen is also handy for smartphone thieves looking to sift through your contacts or send messages from your phone. Consider yourself warned.
First, you have to enable some key settings. Open Google Now (just tap the Google search box on your home screen, or launch the Google app in Applications), scroll down to the very bottom, tap the three-dot menu, and tap Settings. Now tap "OK Google" Detection, and make sure the From any screen and From lock screen options are both checked. Again, if allowing even limited access to Google Now from the lock screen makes you uneasy, this tip might not be for you.
Next, lock your phone, wake it back up, and say "OK Google"--and no, there's no need to unlock your device.
Say "Note to self: [your great idea]." When you do, Google Now records and transcribes (to the best of its ability, anyway) your thoughts, and then saves them to the note-taking app of your choice.
2. Ask Siri to take down your thoughts [iOS]
Got an iOS device? You can perform much the same trick with Siri on your iPhone or iPad.
Press and hold the Home key (tap Settings > Passcode Lock, then flip the Siri switch to activate Siri while your iPhone or iPad is locked), then say "Note to self."
When Siri asks what you want to record, go ahead and speak.
All done? Tap the Confirm button, and Siri will save your transcribed thoughts to the iOS Notes app.
3. Tap thoughts into the lock screen [Android]
Rather type your brilliant ideas than speak them out loud? If so, there's an easy way to tap your thoughts into your Android phone without having to unlock your handset first.