27 new iOS 7 features Apple didn't talk about
They may not have been trumpeted during Apple's keynote, but here are 27 iOS 7 features lurking in the background of the company's presentation that you may have missed.

You can limit your AirDrop access to just your contacts, no one, or let everyone in.
But did you know AirDrop can support other file types? According to Apple's website, the service will also support sending Passbook passes and contacts; given that there's also a third-party API for AirDrop, I suspect you'll also be able to transfer other third-party files very soon.
One nice AirDrop security feature: The service, by default, only lets your contacts see your device, but you can disable it altogether (or let everyone in the area see you).
New Maps features
Maps will get a new interface in iOS 7 (and will be able to talk to its new OS X counterpart), but there are also a few other new features coming to the app.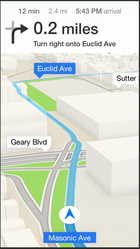 Walk a lot? Turn-by-turn walking directions for Maps keeps your iPhone in your pocket and your eyes on the sidewalk, not a screen.
Turn-by-turn walking directions: If you like to walk, but aren't always familiar with your surroundings, Maps's new turn-by-turn directions for walkers should be a delight. It could keep you from having to pull out your phone every five minutes to check that, yes, you were supposed to take that right turn.
Night mode for Maps: I am constantly adjusting my phone's brightness when I use it as a nighttime navigator. As such, night mode for Maps sounds like it might be right up my alley; while I can't say exactly how it might be implemented, a brightness slider or black/white mode would be much appreciated.
Maps bookmark syncing: iCloud has offered bookmarks syncing with Safari since its inception, but iOS 7 marks the first time you'll get sync for your Maps bookmarks, as well. So if you add your favorite sushi joint's address to your iPhone, rest assured it should show up on your Mac and iPad, too.
Communications
The iPhone is first and foremost a phone, so communication updates in iOS 7 would seem to be a no-brainer. What sort of small tweaks can we expect in the fall?
Smart Mailboxes and improved Mail search: iOS has never had access to your Mac's Smart Mailboxes, but from the looks of the additional features slide in Monday's keynote, that might soon change. (Might this also indicate that Smart Mailboxes will soon also be synced as part of iCloud? This reporter certainly hopes so.)
Improved mail search is certainly vague, but I would love it if this meant that you could select a Search All Folders option when looking for a message; currently, there's no such option, and you must instead go to the folder you want to search in, then perform your search.
Previous Page 1 2 3 4 5 6 Next Page