20 must-grab digital Marvel Comics
Marvel's promoting free first issues of its comics. Please allow our comics steward, Andy Ihnatko, to make some recommendations
"Nextwave: Agents Of H.A.T.E." (written by Warren Ellis, drawn by Stuart Immonen) is another funny hero book, but it's less wacky and more grounded. It's as though the characters in "Clerks" were established "C"-list heroes. They're annoyed by their jobs and resentful of the people with which they share a community.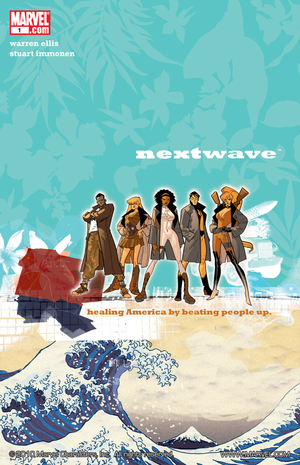 Enough cynicism and post-modern hipsterism. "The Wonderful Wizard Of Oz" is the classic story broken down into an eight-issue comic book series, illustrated by the masterful Scottie Young. His fantastic visuals displace your memories of the MGM movie by page three, which is quite an accomplishment.
I missed "Mystic: The Tenth Apprentice" during its recent run, due solely to prejudice: it's a revival of a handful of characters Marvel acquired when they absorbed a small comics studio years ago. I should have looked at the credits. It's written by G. Willow Wilson, author of "Air," which is one of my favorite series of the past five years. She has a knack for taking what seems on the surface to be a well-worn story conflict and reminding you of the reasons why the classic conflicts work so well. This is the story of two orphan girls who vie to escape a squalid existence through an apprenticeship in the arts of alchemy. Wilson describes this story as "high-fantasy 'Mean Girls' meets 'Les Miserables'" which hits the mark so closely that I don't even dare try to tweak a word or two and then claim that I made that line up myself.
Even if they're not free...
Even if you miss out on the "free" window, you'll find that any of these books are verrry much worth buying. This "Free #1s" promotion, as horribly as it went in its first attempt, is a terrific idea and I wish more publishers would give it a shot.
I'm often asked to recommend comics. I'm not sure I really want to be responsible for the results because I, myself can become frustrated by the current state of Marvel and DC and I've even pared way back on my buying. Many books cost $3.99 and they're impossible to understand. Linear storytelling is "old fashioned." Instead, writers create immense multicolored charts out of posterboard just so that they themselves can figure out what the hell is going on. They post photos of these blueprints as though it's a point of pride or something.
And that's to say nothing about the company-wide crossover events! Imagine a whole summer during which you've no idea what's going on in "Breaking Bad" because you haven't seen last week's "Mad Men," a show that you're not supposed to watch until after Episode 9 of "Game Of Thrones," which has been delayed for three weeks.
Previous Page 1 2 3 4 5 6 Next Page