10 more Raspberry Pi projects primed for IT
Network monitoring, traffic analysis, VPN servers -- DIY-minded IT pros can hack together heavy-duty solutions as cheap and easy as Raspberry Pi

Credit: Wikipedia
The Raspberry Pi was created as an educational platform but has become one of the most popular embedded systems platforms on earth with a full copy of Linux and a rabid community of DIY-minded developers. That combination alone makes the Raspberry Pi a natural fit for hacking together enterprise IT applications and devices. Add in its low cost and the ready availability of open source solutions, and you can quickly see how previously expensive systems and devices are suddenly within reach of IT departments willing to experiment with Raspberry Pi, as my first foray into DIY IT Raspberry Pi projects showed.
Here we take another deep look at enterprise-worthy Pi projects, as developers have gained more experience on both the hardware and software sides of the Raspberry Pi.
Distributed network monitoring with Iperf
NetBeez has been busy building wired and wireless performance monitoring systems for quite some time. I had a chance to use these systems at InteropNet the past couple years.
With the ability to kick off "what if" scenario data streams, NetBeez gave the crew at InteropNet the means to perform sanity-check load testing before customers arrived at the show venue. NetBeez's monitoring capability also gave the InteropNet team a customer's-eye view of the network all the way to the edge. If you're looking for a cheap, open source way to establish distributed network monitoring, NetBeez has created a collection of resources for you to roll your own Raspberry Pi-based performance monitors using Iperf, an open source Linux-based bandwidth testing tool. TCP, UDP, multicast, and more -- hack this Pi tool together and test away.
Project by Panagiotis Vouzis
Network traffic analysis and troubleshooting with tshark
Wireshark is a massively popular packet capture device, but a leaving laptop in your data closet isn't always possible. Never fear: Raspberry Pi -- and Gerald Combs of Wireshark fame -- to the rescue.
Combs has created a much lighter-weight command-line version of Wireshark called tshark that can be added to a Raspberry Pi to create a much more affordable packet capture device that you can drop into data closets all over your campus. But keep in mind that tshark does not include a GUI, so you'll need a fairly good idea what you're looking for as you SSH into the remote Pi.
The LinuxUser tutorial by Mihalis Tsoukalos includes tips on troubleshooting network difficulties and adding network data to a MongoDB database on Debian 7 -- easily accomplished on your Raspberry Pi.
Project by Mihalis Tsoukalos
Network traffic control with Nagios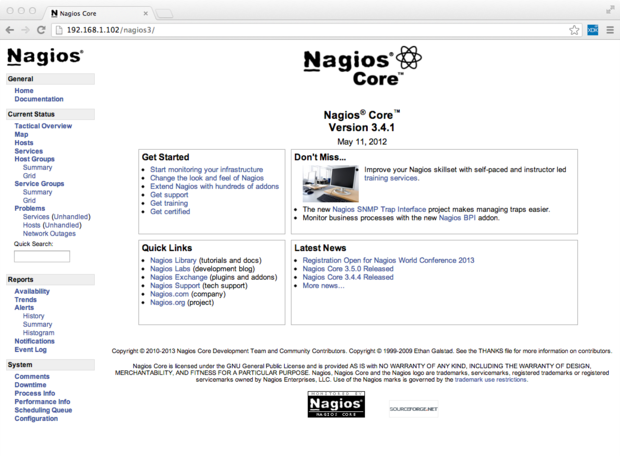 Credit: Werner Ziegelwanger