SolarCity to develop roofs made of solar cells
Solar rooftops will be produced at SolarCity's soon to open Buffalo, N.Y., manufacturing plant
Five million roofs are replaced each year in the U.S., so instead of simply swapping out old shingles with new ones, why not turn the whole roof into a solar power generator that's integrated with your home's electrical utility?
That is SolarCity's plan for a new product it expects to begin producing next year, according to statements made during the company's second-quarter earnings call last week.
During the call, SolarCity Chief Technology Officer Peter Rive alluded to a new product that would be produced at the soon to open Buffalo, N.Y., solar panel manufacturing facility. Then SolarCity co-founder and Chairman Elon Musk interjected and said the product would be a solar roof, "as opposed to a [solar] module on a roof."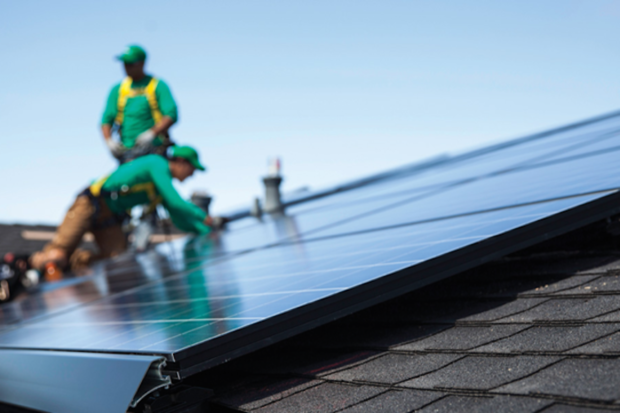 Workers for SolarCity install rooftop solar on a house.
Earlier in the call, Rive, who is Musk's cousin, stated that in moving forward, SolarCity would need ways to differentiate its product offerings to stay competitive in an expanding solar market. Musk then called the solar roof a "seminal" part of that strategy. The solar roof also has the advantage that it doesn't "cannibalize" any existing SolarCity product, such as solar panels installed atop roofs, Musk said.
"If your roof is nearing end of life, you definitely don't want to put solar panels on it because you're going to have to replace the roof," Musk said. "So there's a huge market segment that's kind of inaccessible to SolarCity.
"So, why not have a solar roof that's better in many other ways as well," he continued. "We don't want to turn over all our cards right now, but I think people are going to be really excited about what they'll see."
Neither Rive nor Musk offered technical details about the upcoming solar roof, but they did say it would be highly efficient.
SolarCity's board recently agreed to a $2.6 billion buyout by Tesla Motors, of which Musk is also chairman and CEO. SolarCity already sells in-home, lithium-ion battery systems produced by Tesla that store power generated by solar roof panels.
Last month, Tesla announced the initial opening of its 130-acre Gigafactory outside of Reno, Nevada, that will produce tens of thousands of lithium-ion batteries per year for homes and electric vehicles when it is at full manufacturing capacity in 2020.

Tesla's home battery, the white vertical box with the red label, is being piloted in 330 households, mainly in California.
The objective of the massive plant is to drive down the per-kilowatt-hour (kWh) cost of battery packs by more than 30% through economies of scale.