SolarCity agrees to $2.6B buyout by Tesla
Analysts have mixed feelings about the proposed merger
SolarCity has reached an agreement to be acquired by Tesla Motors in an all-stock deal valued at $2.9 billion that was first announced last month.
The rooftop solar installer said the result of the merger would be the creation of the world's first "vertically integrated sustainable energy company."
Tesla's Powerwall battery mounted on the wall of a garage with a Tesla Model S all-electric vechicle beside it.
SolarCity has already been reselling the lithium-ion batteries that Tesla makes for both commercial and residential energy storage systems as well as for use in its all-electric vehicles.
Tesla founder and CEO Elon Musk is also the co-founder and chairman of SolarCity, which is run by fellow co-founder and CEO Lyndon Rive and his brother, CTO Peter Rive. Both men are Musk's cousins. Musk owns 22% of SolarCity's stock and 21% of Tesla.
"Solar and storage are at their best when they're combined," SolarCity said in a blog. "As one company, Tesla (storage) and SolarCity (solar) can create fully integrated residential, commercial and grid-scale products that improve the way that energy is generated, stored and consumed."
Tesla is preparing to scale up its production of Powerwall and Powerpack stationary storage products through its Gigafactory, which officially opened last week. By 2018, the factory will produce enough battery packs to allow Tesla to build around 500,000 electric cars. The electric carmaker plans to release its least expensive mass-consumer vehicle, the Model 3, around that time.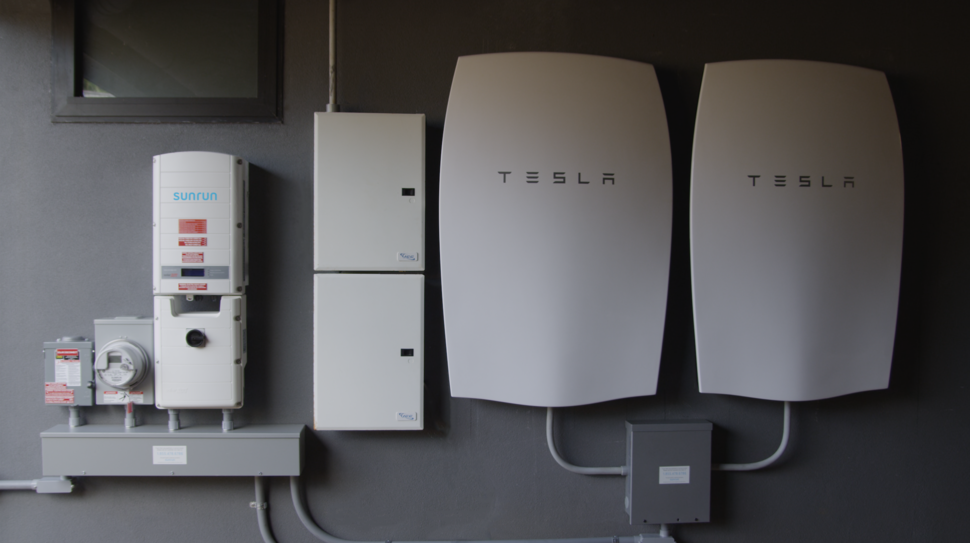 A Tesla Powerwall battery system as installed by Sunrun. The batteries can be installed inside or outside of a home.
By 2020, Musk believes the factory will produce 35 gigawatts (a gigawatt is one billion watts) of battery capacity, with the objective of driving down the per-kilowatt-hour (kWh) cost of battery packs by more than 30% through economies of scale.
SolarCity said it is getting ready to offer "next-generation differentiated solar solutions."
"By joining forces, we can operate more efficiently and fully integrate our products, while providing customers with an aesthetically beautiful and simple one-stop solar + storage experience: one installation, one service contract, one phone app," the company said.
Industry analysts have given the Tesla/SolarCity merger mixed reviews.
Raj Prabhu, CEO Mercom Capital Group, a clean tech research and communications firm, said he's skeptical of the merger because the ties between the two companies will likely create conflicts of interest.
Neither Tesla nor SolarCity are profitable and have incurred massive amounts of debt because the companies are spending in order to expand in what are still fairly niche industries.