Rooftop solar installation prices drop as does payback time
Solar shingles could change the rooftop market
"We're now seeing ratings as high as 19% from some providers. SunPower is touching on 21%. Panasonic also has good performers," Aggarwal said.
Panasonic and other solar panel manufacturers have been in an efficiency battle, going back and forth on which can produce the better performing product. Last year, Panasonic announced a PV module with 22.5% efficiency.
With greater efficiency, however, comes higher prices.
Solar modules with greater than 18% efficiency had a median installed price that was $0.5-0.6/W higher than systems with mid/low-efficiency modules in 2015, according to the LBNL's report.
Whichever price consumers received, overall, rooftop solar system installation costs are falling. Systems that used to cost as much as a luxury car five to 10 years ago now cost about the same as an economy car.
The gross cost of the average rooftop solar power system before tax credits is $28,203, according to EnergySage. After the federal solar Investment Tax Credit (ITC) of 30% is factored in, the total average cost drops to $19,742. That cost then drops again after state or local incentives are included.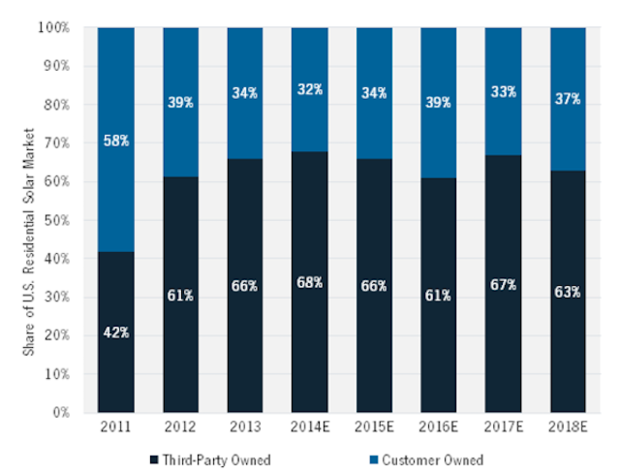 As the cost of rooftop solar has plummeted, the share of residential solar energy systems owned by third parties, such as SolarCity, Vivint Solar and Sunrun, has also begun to drop. Initially, third party ownership grew from 42% of the market in 2011 to 66% in 2013, but that peaked in 2014 at 68%, according to GTM Research.
Beginning in 2015, the expansion of residential solar loan programs and alternate financing mechanisms such as property-assessed clean energy programs drove the market toward direct ownership.
By 2020, third party ownership of distributed solar power systems will drop to 54%, meaning direct ownership of rooftop solar systems will account for 46% of the forecasted 5.2gW (gigawatt) market, according to GTM Research.
"Solar loans are becoming widely available with many more options to choose from than in the past, and declining system costs are making direct ownership affordable for more homeowners," Nicole Litvak, GTM research analyst and the report's author, said in a statement. "As a result, the share of third-party-owned solar has already begun to come down in leading state markets, including Arizona and Massachusetts."
EnergySage users are also increasingly choosing to own their solar panels instead of leasing or agreeing to a long-term power purchase agreement (PPA), according to Aggarwal.
Dow Powerhouse Solar Shingles installed on a California home. Last year, Dow discontinued the sale of its solar shingles.
Previous Page 1 2 3 4 Next Page