Rooftop solar installation prices drop as does payback time
Solar shingles could change the rooftop market
The cost of rooftop solar installations continues to decline but not as quickly as it did in previous years, according to a report from the Lawrence Berkeley National Laboratory (LBNL).
National median installed prices in 2015 declined year-over-year by $0.2 per watt (/W), or 5%, for residential systems, by $0.3/W, or 7% for non-residential systems of less than 500 kW, and by $0.3/W, or 9%, for non-residential systems of more than 500 kW.
Solar installation price declines have been partially offset by falling state and utility rebate and tax incentives, according to the LBNL's Tracking the Sun IX solar market report. Rebates and performance-based incentives have declined from $3 to $8 per watt of installed solar power at their peak to less than $1/W (or zero) in most major markets.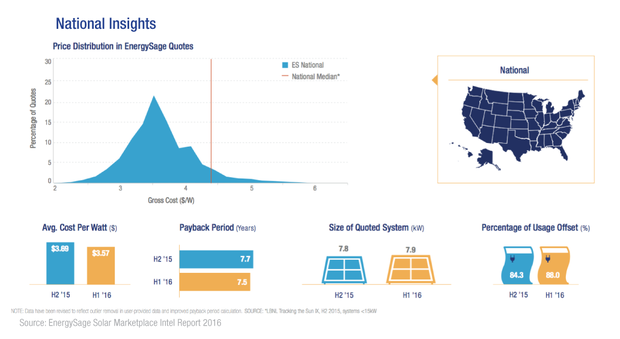 U.S. solar installation prices, the median cost of which is about $4.49 per watt of installed solar capacity, are higher than in most other major national photovoltaic markets, LBNL stated. For example, the starkest difference was with Germany, where typical pricing for residential systems in 2015 was around $1.7/W.
While U.S. costs are higher than in other nations, the costs have still dropped, leading to a substantial decline in the amount of time it takes to pay off the average residential rooftop solar system.
Since the first half of 2015, the payoff time for the average rooftop solar system has dropped from 8.2 years to 7.5 years in the first half of 2016, according to the EnergySage Solar Marketplace Intel Report, which covers the residential solar industry from the second half of 2015 through the first half of 2016.
Founded in 2009, EnergySage is similar to Expedia or Kayak in that it's a free online service that allows users to input their information and retrieve standardized quotes for a service -- in this case, the installation of a rooftop solar system. EnergySage generates revenue from fees paid by solar suppliers and is part of a nascent industry that includes other, smaller players such as Geostellar.
According to Vikram Aggarwal, CEO of EnergySage, customers using his marketplace service pay a $3.63 median cost per watt of installed solar capacity compared with the $4.49 median cost cited by the LBNL's report.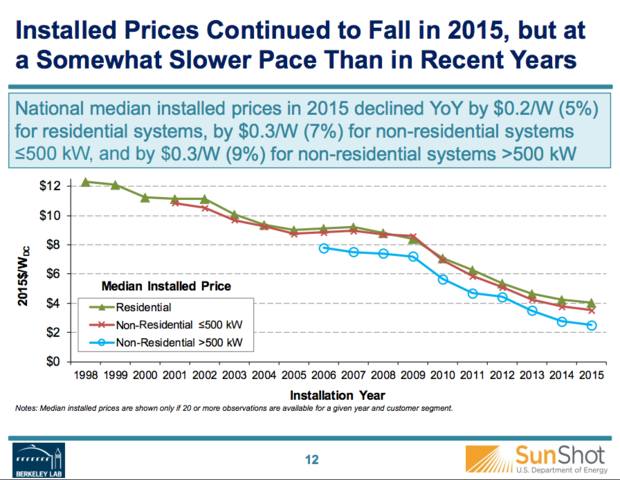 Along with decreasing costs, photovoltaic (PV) panels are increasing in efficiency. The average efficiency rating for today's rooftop solar panels is about 15% to 16%. That means that 15% of the sun's photons that strike the panels are converted into electricity.