Renewable energy now supplies a quarter of the world's power
8.1 million people now have jobs in the renewable energy industry, which saw big gains in 2015.
"Wind power was the leading source of new power generating capacity in Europe and the United States in 2015, and the second largest in China," the report said.
Solar power installations increased by 50gW worldwide last year.
In 2015, solar power was again the leading sector by far in terms of money committed, accounting for $161 billion in investments (up 12% over 2014), or more than 56% of total new investment in renewable power and fuels.
Wind power followed solar with $109.6 billion, or 38.3% of the total investments in renewables (up 4%). All other renewable technologies, however, saw investments decline compared to 2014: investment in biomass and waste-to-energy fell by 42% to $6 billion, small-scale hydropower fell by 29% to $3.9 billion, biofuels fell by 35% to $3.1 billion, geothermal energy fell by 23% to $2 billion, and ocean energy fell by 42% to $215 million.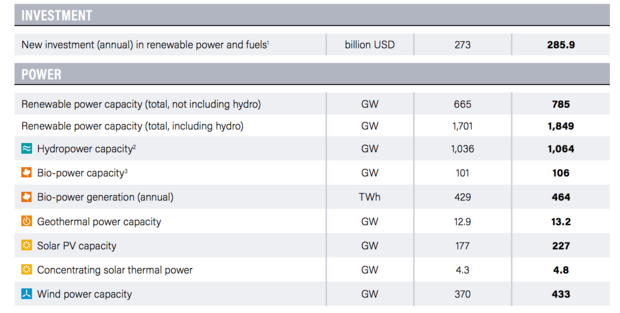 Global investments in renewable energies. Credit: REN21 (Click for larger image)
"Private investors stepped up their commitments to renewable energy significantly during 2015. The year witnessed both an increase in the number of large banks active in the renewables sector and an increase in loan size, with major new commitments from international investment firms to renewables and energy efficiency," the report said.
Governments throughout the world are also enacting policies promoting renewable energy. More than half of all nations -- 110 countries out of 196 countries -- now have some type of renewable energy policy in place. And at least 128 countries have enacted one or more energy efficiency targets.
Last year saw many high-profile agreements and announcements related to renewable energy, including commitments by both the G7 and G20 nations to accelerate access to renewable energy and push for energy efficiency. Additionally, the U.N. General Assembly adopted the Sustainable Energy for All goal.
The Renewable Global Status Report also called for fossil fuel subsidies to be phased out, "as they distort the true costs of energy and encourage wasteful spending and increased emissions.
"Fossil fuel subsidies also present a barrier to scaling up clean energy by decreasing the costs of fossil fuel-powered electricity generation, thereby blunting the cost competitiveness of renewables," the report said.
Fossil fuel subsidies were estimated to be over $490 billion in 2014, compared with subsidies of only $135 billion for renewables.