Renewable energy now supplies a quarter of the world's power
8.1 million people now have jobs in the renewable energy industry, which saw big gains in 2015.
International investment in renewable energies reached $286 billion last year, double that of fossil fuels even as prices continue to tumble.
Jobs in the renewable energy sector (not including large-scale hydropower) increased in 2015 to an estimated 8.1 million, according to the 59-page Renewables Global Status Report, generated by the Renewable Energy Policy Network for the 21st Century (REN21).
In parallel with growth in markets and investments, 2015 saw continued advances in renewable energy technologies, ongoing energy efficiency improvements, increased use of smart grid technologies and significant progress in hardware and software to support the integration of renewable energy, as well as progress in energy storage development and commercialization.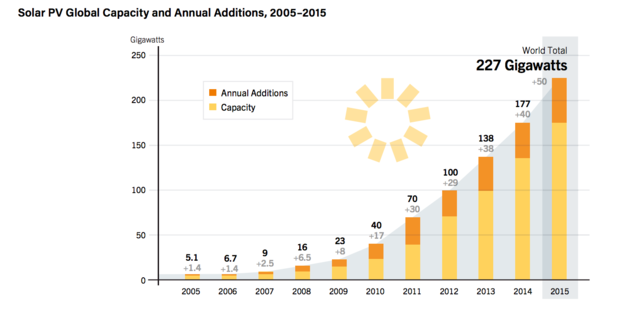 Credit: REN21 (Click for larger image)
For example, Tesla began shipping its Powerwall lithium-ion home batteries to customers -- the first of more than 500,000 batteries it expects to make at its Gigafactory outside Reno, Nev. The company is also producing a commercial-grade battery called the Powerpack, each of which will allow businesses to store up to 100 kilowatt hours of power.
And, after 16 months of development, Boeing delivered a "reversible" fuel cell for the U.S. Navy that stores energy from renewable sources and generates zero-emissions electricity.
Solar photovoltaics (PVs) and biofuels provided the largest numbers of renewable energy jobs, according to the report. Large-scale hydropower accounted for an additional 1.3 million direct jobs. Considering all renewable energy technologies, the leading employers in 2015 were China, Brazil, the United States and India.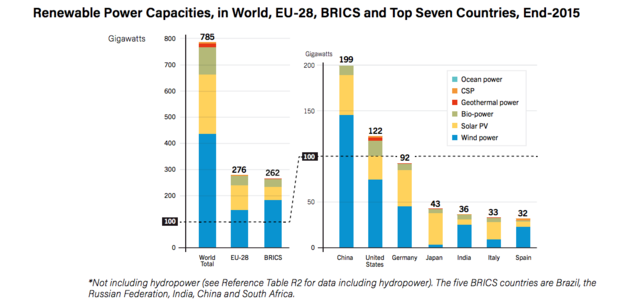 Credit: REN21 (Click for larger image)
"Renewables are now established around the world as mainstream sources of energy," the report said. "The world now adds more renewable power capacity annually than it adds capacity from all fossil fuels combined."
At the end of 2015, renewable capacity was enough to supply an estimated 23.7% of global electricity, with hydropower providing about 16.6%, according to the report.
The rapid growth in renewable power is being driven by the improving competiveness of renewable technologies, dedicated policy initiatives by governments and better access to financing.
Based in Paris, REN21 is a consortium of more than 55 government and non-governmental organizations, research and academic institutions, and industry players whose mission it is to advance renewable energy.
Among the most rapidly growing renewable energies was hydroelectric power. More than a terawatt (a trillion watts) of hydroelectric power was added in 2015.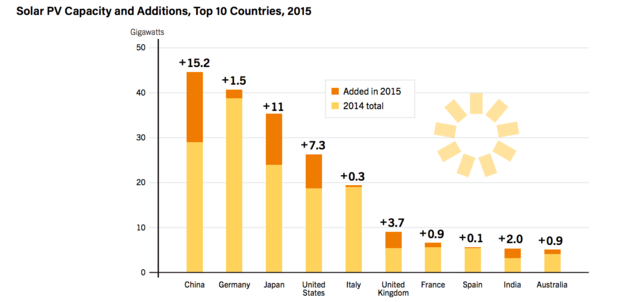 Credit: REN21 (Click for larger image)
Investment in renewable energy, however, has been weighted increasingly toward wind and solar power. Last year, wind power saw an additional 63 gigawatts (gW or a billion watts) of capacity, bringing it to 433gW worldwide.