Channels review: Turn your iPad or iPhone into a handheld TV
The Channels app lets you view over-the-air broadcasts and some cable programming in iOS with the right third-party hardware.
I'm a long-time cord cutter, but the increasingly chopped-up world of broadcast, cable, and exclusive programming available via websites and apps frustrated me enough that I bought an over-the-air (OTA) tuner so I could at least have a reliable source for major networks and PBS. By itself, the device just sits on the network; it has to be paired with useful software. That's where Fancy Bits' new Channels app for iOS ($15 on the iTunes Store) comes in, a sequel and complement to the developer's Channels app for Apple TV, previously reviewed.
Required hardware
The iOS app lets you watch and buffer live television on an iOS device with an A7 or newer processor, thus starting with the iPhone 5s, iPad Air, and iPad mini 2 (not the original), and both iPad Pro models. The software includes a no-fee continuously updated programming grid, so you can see current and upcoming shows as well as episode descriptions for most stations in most markets.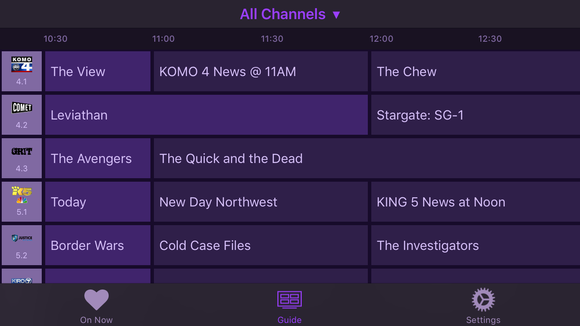 An automatically updating program grid with episode details comes with the app with no subscription fee required.
Channels requires a networked television tuner made by SiliconDust—any of its HDHomeRun series, which I previously reviewed. The HDHomeRun comes in three US models; the HDHomeRun Connect ($100 MSRP; $85 on Amazon) and the HDHomeRun Extend ($180 on Amazon) receive only OTA broadcasts; the HDHomeRun Prime ($123 on Amazon) can also take a CableCard (where available) to tune a subset of cable programming and only on some systems. All feature two simultaneously usable OTA tuners and require just a single coaxial cable hookup for an antenna. They cost from about $90 to $120. Non-US versions are available and Channels for iOS works in several other countries, including Canada and the UK.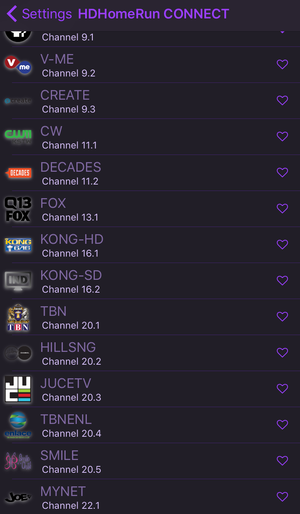 Channels automatically figures out your television market and populates station information.
All three models connect to a network via ethernet. Because iOS streams over Wi-Fi, you might face some streaming issues with uncompressed video over an 802.11n network that don't crop up with a wired connection, such as a laptop or computer also connected via ethernet. (Channels doesn't support remote viewing of live TV, because it relies on the LAN-only HDHomeRun hardware.)
Two of the HDHomeRun models stream uncompressed MPEG2 broadcast video, which for HD programming can eat up 18 to 20 Mbps of network bandwidth, according to Fancy Bits. The third model, Extend, has built-in H.264 compression, which dramatically reduces network throughput, and which Channels also supports decoding for display. Channels doesn't support the picture-in-picture video option that works on newer iPads in iOS 9, as the developers had to build a custom video player.