12 most powerful hyperconverged infrastructure vendors
Nutanix and Simplivity come out on top, but Cisco, HPE and EMC look to take charge in the Hyperconverged market too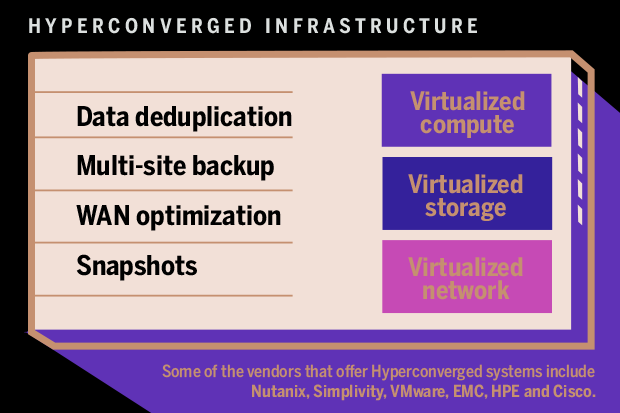 For organizations that want the agility of public cloud infrastructure but want the security and peace of mind of hosting the hardware on their own premises, hyperconverged infrastructure has emerged as a dominant hardware platform for hosting private clouds, virtual desktops and new application development environments.
Over the past five years the hyperconverged infrastructure (HCI) market has evolved out of its preceding converged infrastructure (CI). Like CI, HCI's foundational elements include an integrated compute, network and storage infrastructure offering. Unlike CI, HCI goes a step further with a software that sits atop the virtualized components that control the entire system. This creates software-defined storage, networking and compute, allowing resources to be spun up and down rapidly and through API calls. Research firm Forrester predicts that HCI systems will "become ubiquitous" as a common platform for deploying on-premises infrastructure.
So who are the leading vendors in this market? A Wave report released this month by Forrester analysts Richard Fichera and Naveen Chhabra runs through the top dozen providers based on product maturity and estimated market share.
Nutanix
Nutanix is credited with coining the term hyperconverged infrastructure with the 2011 release of its appliance. Today Forrester estimates that Nutanix is the largest HCI vendor in terms of customer deployments (3,100) and revenues (approximately $200 million). Nutanix excels at supporting large clusters of HCI deployments, scaling to up to 100 node clusters. Forrester also praises the company for its ease of use and simplified management.
Simplivity
Simplivity is by Forrester's measure the runner-up for most powerful HCI company with a strong platform custom designed for this market named OmniStack.
The system includes all of the important HCI features: Multi-site data management, global deduplication, backup, snapshots, clones, multi-site data replication and disaster recovery, along with WAN optimization. The company's one weak spot may be it's relatively modest 24-nodes local cluster limitation, but Forrester says the company excels unlike any other in the market in its multi-site data management across an integrated globally distributed deployment of OmniStack boxes.
Pivot3
Forrester had one other vendor in the "Leaders" category for the HCI market: Pivot3. The company has flown somewhat under the radar since it introduced its HCI offering in 2007 - one of the earliest vendors in this market before the term hyperconverged was coined. The company's strength is in its very efficient data storage platform that has integrated software-defined compute and network. Its expertise in storing petabyte-scale digital media has traditionally appealed to companies with large amounts of video data such as surveillance data and other media organizations. The company has made an effort to expand its customer base and for the first time this year reported that more than half of its bookings were from non-surveillance use cases. With its strong technology, Forrester expects Pivot3 to be an increasingly important vendor in this market.