Why AMD FreeSync is beating Nvidia G-Sync on monitor selection and price
Hint: It's not just the cost of the proprietary module.
Nvidia's answer: It's about value, not cost
In an interview, Tom Petersen, Nvidia's director of technical marketing, doesn't dispute any of these concerns, and acknowledges that the high cost to develop G-Sync monitors puts them into a pricier segment of the market.
But to Nvidia, that's okay, because G-Sync is supposed to be a premium product. The company points to several ways in which G-Sync is superior to FreeSync, including its ability to handle any drop in refresh rate—FreeSync only works within a specified range—and Nvidia's complete control over things like monitor color and motion blur, which Petersen argues are superior to what monitor makers are offering outside the module.
For those reasons, Petersen says any price disparity between comparable G-Sync and FreeSync monitors is not due to the module, whose cost he says is "relatively minor," but due to monitor makers' decision to charge more.
"To me, when I look out and see G-Sync monitors priced higher, that's more of an indication of value rather than cost," he says. "Because at the end of the day, especially these monitors at the higher segments, the cost of the components don't directly drive the price."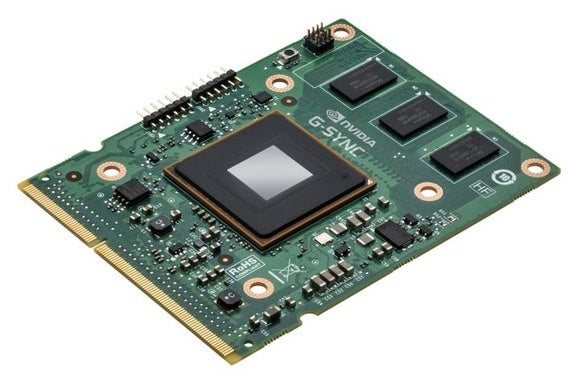 Nvidia says the proprietary module is not a major contributor to the cost of G-Sync monitors, especially since it replaces some other standard components.
Perhaps that's a fair point for higher-priced monitors, but as we've heard from monitor makers, the bigger issue is that the module is inherently harder to include in lower-priced options. With G-Sync, for instance, you can't buy a 60Hz monitor in less than 4K resolution, whereas FreeSync offers plenty of options in 1440p and 1080p.
Nvidia's Petersen suggested that addressing these mid-tier markets isn't a priority. "I think over time, you'll see lower-priced monitors that are lower-featured, that include G-Sync, but it's not our goal," Petersen says. "Our goal is to provide a premium gaming experience, and the premium gaming experience requires a lot of hands-on work from Nvidia, and that's where we're going to continue to focus over time."
Of course, some monitor makers would prefer that Nvidia supported DisplayPort's adaptive sync standard, so users could ,at least enjoy some anti-tearing benefits even if they didn't splurge for a G-Sync monitor. To that, Petersen says "never say never," but right now he argues there's no benefit to doing so.
"I'm worried that by just throwing it out there, we could be delivering the same less-than-awesome experience that FreeSync does today," he says, "and that's just not our strategy."
For loyal Nvidia customers, the takeaway is clear: If you want G-Sync, be prepared to jump into the deep end of luxury gaming monitors, because the technology isn't going downmarket anytime soon.
Previous Page 1 2 3